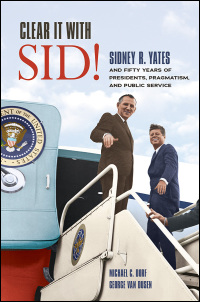 Clear It with Sid!
Sidney R. Yates and Fifty Years of Presidents, Pragmatism, and Public Service
Ten presidents, eight Speakers, one political powerhouse
The son of a Lithuanian blacksmith, Sidney R. Yates rose to the pinnacle of Washington power and influence. As chair of a House Appropriations subcommittee, Yates was a preeminent national figure involved in issues that ranged from the environment and Native American rights to Israel and support for the arts. Speaker Tip O'Neill relied on the savvy Chicagoan in the trenches and advised anyone with controversial legislation to first "clear it with Sid!"
Michael C. Dorf and George Van Dusen draw on scores of interviews and unprecedented access to private papers to illuminate the life of an Illinois political icon. Wise, energetic, charismatic, petty, stubborn—Sid Yates presented a complicated character to constituents and colleagues alike. Yet his get-it-done approach to legislation allowed him to bridge partisan divides in the often-polarized House of Representatives. Following Yates from the campaign trail to the negotiating table to the House floor, Dorf and Van Dusen offer a rich portrait of a dealmaker extraordinaire and tireless patriot on a fifty-year journey through postwar American politics.
---
"A bracing and insightful read." --Rick Kogan, Chicago Tribune

"With an electorate so polarized today, the life and political career of Sidney R. Yates reminds us of a time when being a congressman meant being willing to reach across the aisle and work toward bipartisan solutions." --Chicago Jewish News

"Dorf and Van Dusen make a convincing case for Yates's national importance." --Journal of American History

"Clear It with Sid!, above all else, could either be seen as a eulogy to a politician who believed governance could be pragmatic and bipartisan, a memorial to a time when such behavior was the rule and not the exception, or both." --Journal of the Illinois State Historical Society
"Michael Dorf and George Van Dusen weave together the fascinating life of my friend, Sid Yates, an insight into the cutthroat Chicago party politics of Sid's career and the best analysis of the bare knuckles, behind-the-scene battle Sid waged to save the National Endowment for the Arts ever written. When you read this book you will learn of a day when one of Illinois's most principled and skillful public servants made history in the halls of Congress. Near the end of his life Sid joked with me about old age. He said: 'First the knees go. Then the nouns go. Then you go.' Sid is gone, but for those who read this exceptional book he will not be forgotten." --Senator Dick Durbin

"Clear It with Sid! offers a close look at one of America's national political titans. It is an indispensable resource for understanding post-World War II America because it reveals the nitty-gritty of how national politics was done over five decades. It also sheds new light on dozens of matters that engaged Congressman Yates, such as justice for resettled Japanese Americans and the controversy over Admiral Hyman Rickover, to name but two."--Gary Johnson, President, Chicago History Museum

"Mike Dorf and George Van Dusen have captured the voice of the Sid Yates I knew. This book illustrates the true inside workings of lawmaking in America and the rich flavor of interplay among the Congressional leaders, staffs, and advocates who argue and collaborate and ultimately create our laws. The chapter on 'Three Years of the Culture Wars' was for me both riveting and frightening. It was riveting because I myself lived and worked through every moment of those battles all excellently depicted here. And it is frightening to recall how close we all came to seeing America robbed of a federal cultural investment. Clear it with Sid! is loaded with treasures of insight, such as how a strong colleague partnership with a staff leader like Congressman Yates's Chief of Staff, the great Mary Bain, can make a huge difference; or how sharp statesmanship along with passion combined to preserve our national cultural agencies; and most importantly how one person can indeed make a difference."--Robert Lynch, President and CEO, Americans for the Arts

"Sid Yates and I represented neighboring Congressional districts during nineteen of his forty-eight years in the House of Representatives. Clear It With Sid! captures the Sid Yates I knew, and provides facts and insights that I never expected. We were on opposite sides of the aisle and Dorf and Van Dusen demonstrate how Sid's civility, bipartisanship, and legislative acumen enabled him to work with Republicans, pass legislation, and get things done. In particular, the authors' description of the politics of the Appropriations Committee, on which we both served, is a must read for anyone interested in the way Congress really works."--John Porter, former U.S. Congressman for Illinois's 10th District
---
To order online:
//www.press.uillinois.edu/books/catalog/88dcf7dz9780252042447.html
To order by phone:
(800) 621-2736 (USA/Canada)
(773) 702-7000 (International)
Related Titles