For a boring sport, baseball sure produces a lot of interesting writing. Maybe because writers have a lot of time to think, take notes, nap, and so on waiting for something to happen during a game. And then when something does happen, there's no need to concentrate, because chances are you've seen the same thing a million other times. The double play hasn't fundamentally changed since Tinkers to Evers to Chance, except now the players and field are in color, and the people no longer zip around like the characters in those sped-up clips from The Benny Hill Show.
Long ago, UIP committed to delving beyond the box score to publish on the phenomena, personalities, and overlooked but important aspects of the game. You don't even have to miss a pitch to read about it all. Just sit back in the chair with your unshelled peanuts and delicious $10 beverage, open the book, and glance up once in a while to see what's going on.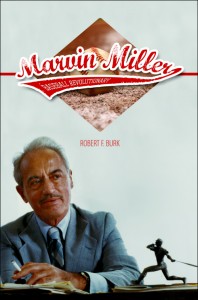 Marvin Miller, Baseball Revolutionary, Robert F. Burk
Jerry Maguire concentrated on football, but baseball pioneered "show me the money," and union leader Marvin Miller led the wagon train to riches. The most unjust exclusion from the Baseball Hall of Fame, Miller rose from bare-knuckle union and Washington politics to run the moribund Major League Baseball Players Association.
Drawing on research and interviews with Miller and others, Robert F. Burk offers the first-ever full-life biography of this transformative figure. When Miller accepted the thankless task of running the MLBPA, an organization not known for organization, one riven with Quislings and backbiting, the average big league player made around $11,000 (about $82,000 today). We know it's slightly higher today because baseball fans argue contracts as passionately as they argue on-base percentage and beer prices. Burk tells the epic tale of how the modern game came to be, and how the MLBPA became the most powerful union in America.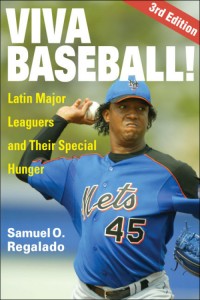 Viva Baseball!: Latin Major Leaguers and Their Special Hunger, by Samuel O. Regalado
Dominican stars inducted into the hallowed Hall at Cooperstown. Cubans exciting bidding wars and Internet gif-barrages. Latin America, once considered an adjunct to the bigs, reigns today as a source of powerhouse talent that year-in, year-out thrills fans and changes the game.
Samuel O. Regalado interviewed twenty-five Latin baseball stars, including Felipe Alou, Orlando Cepeda, and Minnie Minoso, to chronicle the struggles of Latin American professional baseball players in the United States from the late 1800s to the present. Regalado traces how these players and others have benefited from a growing Spanish-language media, a group identity, an increase in financial leverage and attention, and a burgeoning Latino culture in the United States. But he also shows how contemporary stars like Albert Pujols and Alex Rodriguez have, despite being iconic figures, faced shocking racism.
Josh Gibson: The Power and the Darkness, by Mark Ribowsky
It is said that Josh Gibson is the only man ever to have hit a fair ball out of Yankee Stadium. Some claim he hit as many as seventy-five home runs in a season. All agreed he was a frightening hitter to face. What Satchel Paige was to pitching in the Negro leagues, Gibson was to hitting: their greatest star, biggest gate attraction, and most important symbol.
Though Gibson is best remembered as "the black Babe Ruth," Ruth became a beloved symbol of the national pastime, while Gibson lived a life veiled in the darkness that came both from the shadow world of the Negro leagues and from within his own tortured soul.
Mark Ribowsky, the widely acclaimed biographer of Satchel Paige, pulls no punches in his portrait of this magnificent, troubled athlete. This is the most complete, thorough, and authoritative account of the life of black ball's greatest hitter, and one of its most important stars.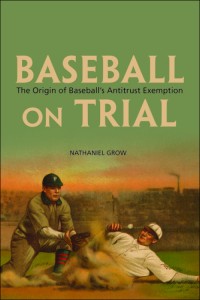 Baseball on Trial: The Origin of Baseball's Antitrust Exemption, by Nathaniel Grow
The controversial 1922 Federal Baseball Supreme Court ruling held that the "business of base ball" was not subject to the Sherman Antitrust Act because it did not constitute interstate commerce. In the award-winning Baseball on Trial, legal scholar Nathaniel Grow defies conventional wisdom to explain why the unanimous Supreme Court opinion authored by Justice Oliver Wendell Holmes, which gave rise to Major League Baseball's exemption from antitrust law, was correct given the circumstances of the time.