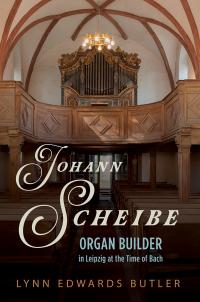 Johann Scheibe
Organ Builder in Leipzig at the Time of Bach
The groundbreaking accomplishments of a master instrument maker
Cloth – $65
978-0-252-04431-1
eBook – $19.95
978-0-252-05330-6
Publication Date:
About the Book
In his nearly forty-year career, Johann Scheibe became Leipzig's most renowned organ builder and one of the late Baroque's masters of the craft. Johann Sebastian Bach and Johann Kuhnau considered Scheibe a valued colleague. Organists and civic leaders shared their high opinion, for Scheibe built or rebuilt every one of the city's organs.
Drawing on extensive research and previously untapped archival materials, Lynn Edwards Butler explores Scheibe's professional relationships and the full range of his projects. These assignments included the three-manual organ for St. Paul's Church, renovations of the organs in the important churches of St. Thomas and St. Nicholas, and the lone surviving example of Scheibe's craft, a small organ in the nearby village of Zschortau. Viewing Scheibe within the context of the era, Butler illuminates the music scene of Bach's time as she follows the life of a gifted craftsman and his essential work on an instrument that anchored religious musical practice and community.
About the Author
Lynn Edwards Butler is an organist and harpsichordist, and the cofounder and former director of the Westfield Center. She is the translator of The Organs of J. S. Bach: A Handbook.
---