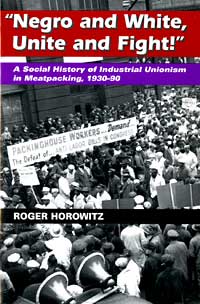 "Negro and White, Unite and Fight!"
A Social History of Industrial Unionism in Meatpacking, 1930-90
How meat industry workers gained power, and had it taken away, in the twentieth century
Paper – $28
978-0-252-06621-4
Publication Date
Paperback: 01/01/1997
About the Book
This pathbreaking study traces the rise--and subsequent fall--of the United Packinghouse Workers of America (UPWA). Roger Horowitz looks at local leaders and meatpacking workers in Chicago, Kansas City, Sioux City, and Austin, Minnesota, closely examining the unionizing of the workplace and the prominent role of black workers and women in UPWA.
Horowitz shows how three major firms in U.S. meat production and distribution became dominant by virtually eliminating union power. The union's decline, he argues, reflected massive pressure by capital for lower labor costs and greater control over the work process. In the end, the victorious firms were those that had been most successful at increasing the rate of exploitation of their workers, who now labor in conditions as bad as those of a century ago.
About the Author
Roger Horowitz is an historian of American business, technology, and labor, and the director of the Center for the History of Business, Technology, and Society at the Hagley Museum and Library. His books include Kosher USA: How Coke Became Kosher and Other Tales of Modern Food and Putting Meat on the American Table: Taste, Technology, Transformation.
---