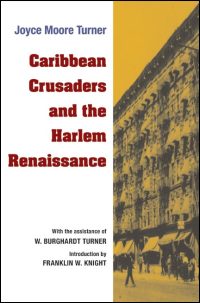 Caribbean Crusaders and the Harlem Renaissance
Artists, activists, and the development of international radicalism in Harlem
Paper – $27
978-0-252-07241-3
Publication Date: October 2005
About the Book
Joyce Moore Turner's
Caribbean Crusaders and the Harlem Renaissance
is a study of the emergence of African American radicalism in Harlem, a crossroads of the African Diaspora in the early twentieth century. Turner reveals that the Harlem Renaissance was more than just an artistic fluorescence; it was also a political movement to counter racism and colonialism.
To explore the roots of the Caribbean emigres' radical ideology and the strategies used to extend agitation from Harlem to national and international platforms, the study draws on the papers and writings of Hermina Huiswoud, Cyril Briggs, the Reverend E. Ethelred Brown, Langston Hughes, and Richard B. Moore, as well as from interviews and biographies of related contemporary figures. It also incorporates census records, FBI files, and hundreds of documents from the recently opened Russian Archive.
Through a focus on Otto Huiswoud, the sole African American charter member of the Communist Party, and his wife, Hermina, Turner exposes the complex developments within the socialist and communist parties on the question of race. The account ranges beyond Harlem to Europe, Africa, and the Soviet Union to reveal the breadth, depth, and nearly global reach of the Afro-Caribbean activists' activities.
About the Author
Joyce Moore Turner is the coeditor of Richard B. Moore, Caribbean Militant in Harlem: Collected Writings 1920-1972. Franklin W. Knight is Leonard and Helen R. Stulman Professor of History at Johns Hopkins University.
Awards
A CHOICE Outstanding Academic Title, 2006.
---