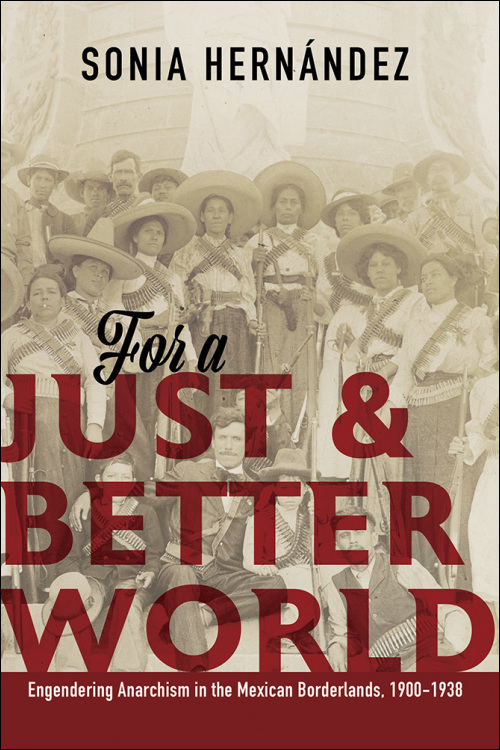 For a Just and Better World
Engendering Anarchism in the Mexican Borderlands, 1900-1938
Mexico's women activists living their ideals
Cloth – $110
978-0-252-04404-5
Paper – $28
978-0-252-08610-6
eBook – $19.95
978-0-252-05298-9
Publication Date
Paperback: 11/02/2021
Cloth: 11/02/2021
About the Book
Caritina Piña Montalvo personified the vital role played by Mexican women in the anarcho-syndicalist movement. Sonia Hernández tells the story of how Piña and other Mexicanas in the Gulf of Mexico region fought for labor rights both locally and abroad in service to the anarchist ideal of a worldwide community of workers. An international labor broker, Piña never left her native Tamaulipas. Yet she excelled in connecting groups in the United States and Mexico. Her story explains the conditions that led to anarcho-syndicalism's rise as a tool to achieve labor and gender equity. It also reveals how women's ideas and expressions of feminist beliefs informed their experiences as leaders in and members of the labor movement.
A vivid look at a radical activist and her times, For a Just and Better World illuminates the lives and work of Mexican women battling for labor rights and gender equality in the early twentieth century.
Watch a video with the author introducing the book
Virtual Event with the Center for Global Studies
About the Author
Sonia Hernández is an associate professor of history at Texas A&M University and the author of Working Women into the Borderlands.
Reviews
---
Blurbs
"A significant and solid contribution to gender-labor history, the history of women, the history of Latinas in the United States, and transnational history. Hernández puts the political biography of the anarcho-unionist leaders at the center and examines their political trajectory. She also intertwines their stories with the most important changes in anarchism, anarcho-syndicalism, mutualism, trade unionism, and the labor policies of the new Mexican state."--María Teresa Fernández Aceves, author of Mujeres en el cambio social en el siglo XX mexicano
---