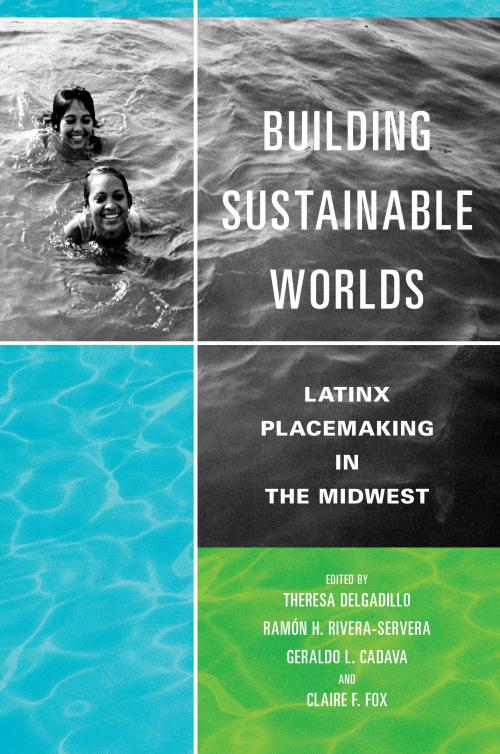 Building Sustainable Worlds
Latinx Placemaking in the Midwest
The intertwined dynamics of creating livable places and preserving community
Cloth – $125
978-0-252-04454-0
Paper – $28
978-0-252-08661-8
eBook – $19.95
978-0-252-05354-2
Publication Date
Paperback: 07/12/2022
Cloth: 07/12/2022
About the Book
Latina/o/x places exist as both tangible physical phenomena and gatherings created and maintained by creative cultural practices. In this collection, an interdisciplinary group of contributors critically examines the many ways that varied Latina/o/x communities cohere through cultural expression. Authors consider how our embodied experiences of place, together with our histories and knowledge, inform our imagination and reimagination of our surroundings in acts of placemaking. This placemaking often considers environmental sustainability as it helps to sustain communities in the face of xenophobia and racism through cultural expression ranging from festivals to zines to sanctuary movements. It emerges not only in specific locations but as movement within and between sites; not only as part of a built environment, but also as an aesthetic practice; and not only because of efforts by cultural, political, and institutional leaders, but through mass media and countless human interactions.
A rare and crucial perspective on Latina/o/x people in the Midwest, Building Sustainable Worlds reveals how expressive culture contributes to, and sustains, a sense of place in an uncertain era.
Contributors: Emiliano Aguilar Jr., Geraldo L. Cadava, Karen Mary Davalos, Theresa Delgadillo, Laura Fernández, Delia Fernández-Jones, Claire F. Fox, Sergio M. González, Carmen Hernandez, Lawrence La Fountain-Stokes, Marie Lerma, Ramón H. Rivera-Servera, Ariana Ruiz, Sandra Ruiz, Leila Vieira, and J. Gibran Villalobos
About the Author
Theresa Delgadillo is a professor of English and Chican@ and Latin@ Studies at the University of Wisconsin-Madison. She is the author of Latina Lives in Milwaukee. Ramón H. Rivera-Servera is Dean of and a professor in the College of Fine Arts at the University of Texas at Austin. He is the author of Performing Queer Latinidad: Dance, Sexuality, Politics. Geraldo L. Cadava is a professor of history and Wender-Lewis Teaching and Research Professor at Northwestern University and the author of The Hispanic Republican: The Shaping of an American Political Identity, from Nixon to Trump. Claire F. Fox is M.F. Carpenter Professor of English at the University of Iowa. She is the coeditor of The Latina/o Midwest Reader.
Reviews
---
Blurbs
"Building Sustainable Worlds is a transdisciplinary tour de force of Latinx Studies scholarship that captures the vibrancy, resiliency, diversity, and idiosyncrasy of Latinx expressive culture in the Midwest! This wonderfully curated collection of essays serves as an outstanding contribution to the new scholarship on the Latinx Midwest."--Louis Mendoza, author of A Journey Around Our America: A Memoir on Cycling, Immigration, and the Latinoization of the U.S.
---