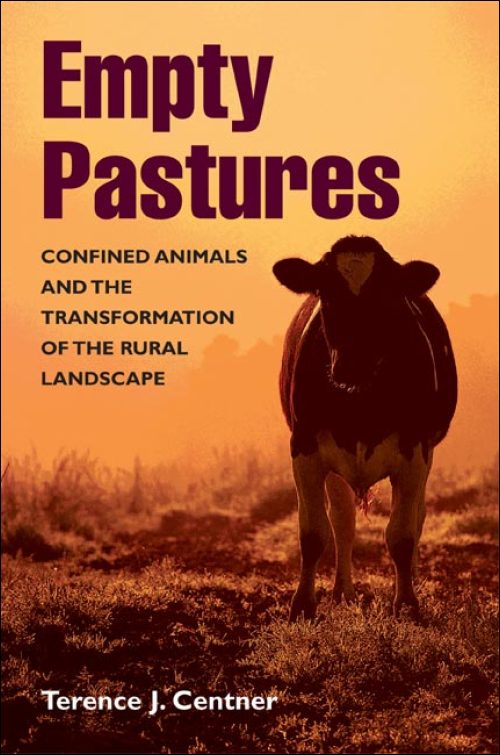 Empty Pastures
Confined Animals and the Transformation of the Rural Landscape
Investigating modern animal production practices and challenging society to reduce agricultural pollution while helping sustain farmers and rural communities
Cloth – $47
978-0-252-02895-3
eBook – $19.95
978-0-252-09080-6
Publication Date
Cloth: 04/05/2004
About the Book
Over the past century American agriculture has shifted dramatically, with small, commercial farms finding it increasingly difficult to compete with large-scale (mostly indoor) animal feeding operations (AFOs). In this book, Terence J. Centner investigates the environmental, social, economic, and political impact of the rise of the so-called factory farm, exposing the ramifications of the contemporary trend toward industrial-scale food production.
Just as Rachel Carson's landmark Silent Spring used the disappearance of songbirds as a jumping-off point for a work that raised public awareness of pesticides' devastating environmental impact, Empty Pastures sees the dwindling numbers of livestock in the American countryside as a symptom of a broader transformation, one with serious consequences for the rural landscape and its inhabitants--animal as well as human.
After outlining the rise of the AFO, Centner examines the troubling consequences of consolidation in animal farming and suggests a number of remedies. The issues he tackles include groundwater contamination, the loss of biodiversity, animal welfare, concentrated odors and other nuisances, soil erosion, and the economic effects of the disappearance of the small family farm.
Inspired by largely abandoned traditional practices rather than a radical and unrealistic vision of a return to an idealized past, Centner proposes a series of pragmatic reforms for regulating factory farms to halt ecological degradation and revitalize rural communities.
About the Author
Terence J. Centner is a professor of agricultural and applied economics at the University of Georgia. He is the author or coauthor of many articles in scholarly journals.
Reviews
---
Blurbs
"Centner knows this important issue thoroughly, and he writes about it in a clean, direct, even lyrical style. With reader in tow, he probes the extraordinary, worrisome changes that are taking place in our rural landscapes--to our soils, our waters, our food, and our small towns. For those who care about what we eat and the health of our lands, this is essential reading."--Eric T. Freyfogle, author of The Land We Share: Private Property and the Common Good and editor of The New Agrarianism: Land, Culture, and the Community of Life
---