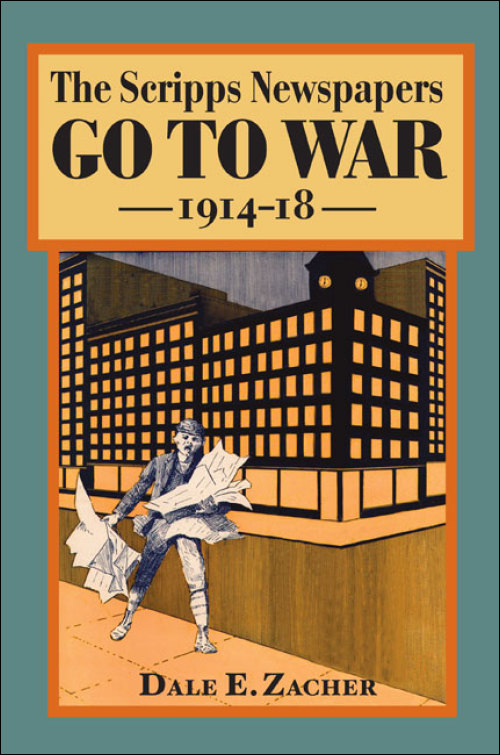 The Scripps Newspapers Go to War, 1914-18
A telling look at the inner workings of one of the nation's most dominant news outlets during wartime
Cloth – $62
978-0-252-03158-8
eBook – $19.95
978-0-252-09299-2
Publication Date
Cloth: 07/28/2008
About the Book
Before radio and television, E. W. Scripps's twenty-one newspapers, major newswire service, and prominent news syndication service comprised the first truly national media organization in the United States. Dale E. Zacher details the scope, organization, and character of the mighty Scripps empire during World War I and reveals how the pressures of the market, government censorship, propaganda, and progressivism transformed news coverage.
Zacher's account delves into details inside a major newspaper operation during World War I and provides fascinating accounts of its struggles with competition, attending to patriotic duties, and internal editorial dissent. Zacher also looks at war-related issues, considering the newspapers' relationship with President Woodrow Wilson, American neutrality, the move to join the war, and fallout from disillusionment over the actuality of war. As Zacher shows, the progressive spirit and political independence at the Scripps newspapers came under attack and was changed forever during the era.
About the Author
Dale E. Zacher is an assistant professor in the School of Mass Communication at the University of Arkansas, Little Rock.
Reviews
"There are few more combistible combinations than a father, a son, and a newspaper chain. . . . The story is told effectively ... and is an excellent addition to the flourishing Illinois 'History of Communication' series."--
Columbia Journalism Review
"Straightforward, rich in detail, and free of scholarly abstruseness and jargon. . . . Highly recommended."--
Choice
"Zacher has dug deep into the Scripps archives to tell [a story] about the tensions surrounding the coverage of war—or of any national crisis—and how they can affect the ideals to which journalists cling."--
Journalism History
"This study is valuable not only for expanding what we know of the Scripps empire, but also for what is perhaps the first case study of how a large news media organization adapted to the challenges of World War I."--
American Journalism
"Provides new insights into the chain's decision making in wartime."--
Journalism & Mass Communication Quarterly
"Zacher's account ... is detailed and often absorbing. Based on scrupulous research in the Scripps organization's archives, he leaves few stones unturned."--
American Historical Review
---
Blurbs
"The Scripps Newspapers Go to War is a fascinating, well-written, and well-documented chronicle of a company going through great change. Zacher captures the Scripps concern during a period of real challenges--dealing with Woodrow Wilson; going through the beginning of World War I; experiencing generational changes in ownership and management; and undergoing transitions within the company as it grows in power, prestige, and wealth."--Gerald Baldasty, author of E. W. Scripps and the Business of Newspapers

"Anyone interested in the role of an important communications organization in helping impel the nation toward war should find The Scripps Newspapers Go to War fascinating, and somewhat frightening, reading. The importance of the nation's first national news organization--composed of twenty-one newspapers, the Newspaper Enterprise Association, and the second largest wire service--has not received the attention it deserves until now."--Dwight I. Teeter Jr., coauthor of Fanatics and Fire-Eaters: Newspapers and the Coming of the Civil War
---