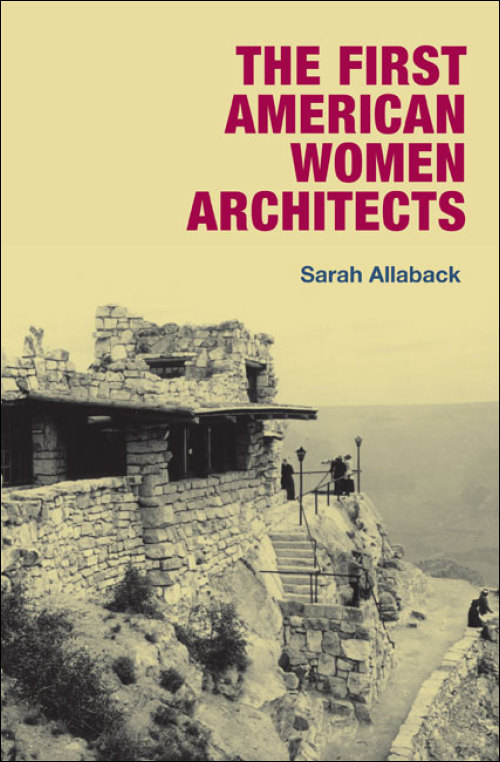 The First American Women Architects
An invaluable reference covering the history of women architects
Cloth – $49
978-0-252-03321-6
Publication Date
Cloth: 06/09/2008
About the Book
By 1920, there were over two hundred women practicing architecture in the United States, actively working on major design and building projects before they were even given the right to vote. These women designed thousands of buildings nationwide: apartments in Kansas City, hotels in the nation's national parks, churches in Michigan, and mansions on the coast of California, to name a few. In
The First American Women Architects,
Sarah Allaback chronicles the lives and careers of more than seventy pioneering female architects practicing in the United States in the late nineteenth and early twentieth centuries, nearly all of whom have been forgotten--until now.
Organized alphabetically as a reference guide, this volume provides a biographical sketch of each architect's life, education, and professional career, and a list of known works and sources for further research. Many of these remarkable women have never before appeared in any other history, making The First American Women Architects a unique and invaluable reference for students and scholars interested in women's history and architecture. As an instructive record of the legacy of women in architectural history, this book will also serve as a stimulating indicator of the broadening potential for women and other minorities within the field of architecture.
About the Author
Sarah Allaback is a freelance writer and architectural historian. She is a former consultant for the National Historic Landmark Program in Washington, D.C.
Reviews
"This reference packs exceptional informational breadth and scholarly passion."--
Library Journal
"This work is very valuable for its coverage and documentation and as a sourcebook for further research. . . . Highly recommended."--
Choice
"The biographical entries are all fascinating and include numerous photos and lists of buildings to commemorate these remarkable women. . . . An inspiring book."--
Feminist Review online
"Enlightening and pleasurable to read."--
Feminist Collections
---
Blurbs
"This well-researched book is unlike anything else that is currently available on the subject of early women architects. An invaluable starting place for researchers and a highly recommended introduction to the underexplored field of women in architecture and design."--Amelia Peck, coauthor of Candace Wheeler: The Art and Enterprise of American Design, 1875-1900

"Sarah Allaback's definitive work completes the history of twentieth-century American architecture by documenting the buildings and careers of more than seventy-five women designers. I wish I had had this excellent resource to inform my earlier work. The First American Women Architects should be on the shelf of every architecture school library."--Daphne Spain, author of How Women Saved the City

"The First American Women Architects is an amazing discovery. Sarah Allaback has unearthed a treasure chest of information, mostly undocumented until now. Some of these architects worked under pseudonyms to disguise their gender. Most faced harsh barriers in design education and practice. All leave a legacy that deserves recognition. Allaback's prodigious research provides scholars and architects with detailed building lists, publications, photographs, sources, and locations of papers, opening the door to further study of these ground-breaking women."--Kathryn H. Anthony, author of Designing for Diversity: Gender, Race, and Ethnicity in the Architectural Profession
---