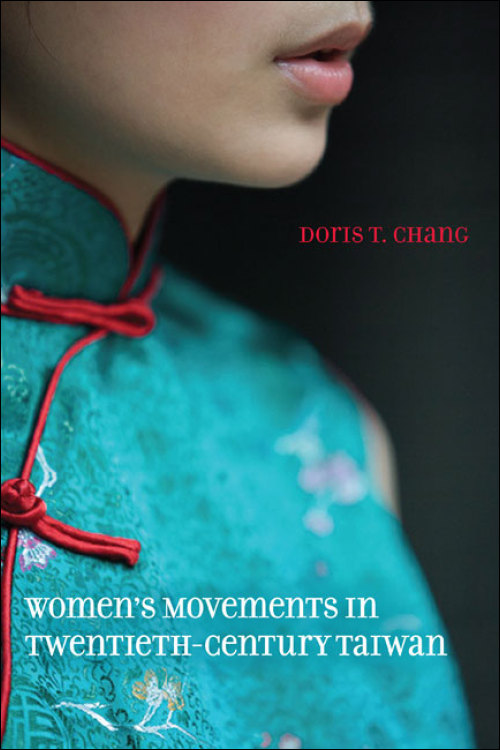 Women's Movements in Twentieth-Century Taiwan
The first book in English to consider feminist movements and discourses in modern Taiwan
Cloth – $49
978-0-252-03395-7
eBook – $19.95
978-0-252-09081-3
Publication Date
Cloth: 04/06/2009
About the Book
This book is the first in English to consider women's movements and feminist discourses in twentieth-century Taiwan. Doris T. Chang examines the way in which Taiwanese women in the twentieth century selectively appropriated Western feminist theories to meet their needs in a modernizing Confucian culture. She illustrates the rise and fall of women's movements against the historical backdrop of the island's contested national identities, first vis-à-vis imperial Japan (1895-1945) and later with postwar China (1945-2000).
In particular, during periods of soft authoritarianism in the Japanese colonial era and late twentieth century, autonomous women's movements emerged and operated within the political perimeters set by the authoritarian regimes. Women strove to replace the "Good Wife, Wise Mother" ideal with an individualist feminism that meshed social, political, and economic gender equity with the prevailing Confucian family ideology. However, during periods of hard authoritarianism from the 1930s to the 1960s, the autonomous movements collapsed.
The particular brand of Taiwanese feminism developed from numerous outside influences, including interactions among an East Asian sociopolitical milieu, various strands of Western feminism, and Marxist-Leninist women's liberation programs in Soviet Russia. Chinese communism appears not to have played a significant role, due to the Chinese Nationalists' restriction of communication with the mainland during their rule on post-World War II Taiwan.
Notably, this study compares the perspectives of Madame Chiang Kai-shek, whose husband led as the president of the Republic of China on Taiwan from 1949 to 1975, and Hsiu-lien Annette Lu, Taiwan's vice president from 2000 to 2008. Delving into period sources such as the highly influential feminist monthly magazine Awakening as well as interviews with feminist leaders, Chang provides a comprehensive historical and cross-cultural analysis of the struggle for gender equality in Taiwan.
About the Author
Doris T. Chang is an assistant professor in the Center for Women's Studies at Wichita State University.
Reviews
"Chang has helped restore a record of how the women's movements have grown into such a hothouse of progressive thought."--
Taiwan Review
"An authoritative summary of a century of activism."--
The China Quarterly
"A well-researched and highly readable account of an important aspect of modern East Asian history."--
Pacific Affairs
"A welcome and needed introduction to the emergence of feminism in Taiwan."--
American Historical Review
"Chang paints a vidid portrait of Taiwan in flux."--
Women: A Cultural Review
---
Blurbs
"A compelling, significant contribution to both Asian studies and women's studies, this book should be the standard treatment of women's movements in Taiwan for years. Nothing else matches Chang's comprehensiveness."--Barbara E. Reed, coauthor of Culture and Customs of Taiwan

"A thoughtful and carefully researched intellectual history, and more. Chang gives us a strong narrative of the Taiwanese feminist movement and a vivid and knowing account of the path of women's activism on the ground in the day-to-day world as well as in the worlds of the mind and the written word in the present day Republic of China/Taiwan."--Murray A. Rubinstein, editor of Taiwan, A New History

"With clear prose and insightful analysis, Doris T. Chang uncovers the varied historical roots of Taiwanese feminisms: Japanese-era social movements, Cold War KMT mobilization of women, and the long struggle for democracy. She also explains the contemporary diversity of the Taiwanese women's movements and the various social issues they must address. As a rare history of feminisms in a non-western context, this book is a must-read for both Taiwan studies and women's studies."--Scott Simon, author of Sweet and Sour: Life Worlds of Taipei Women Entrepreneurs
---