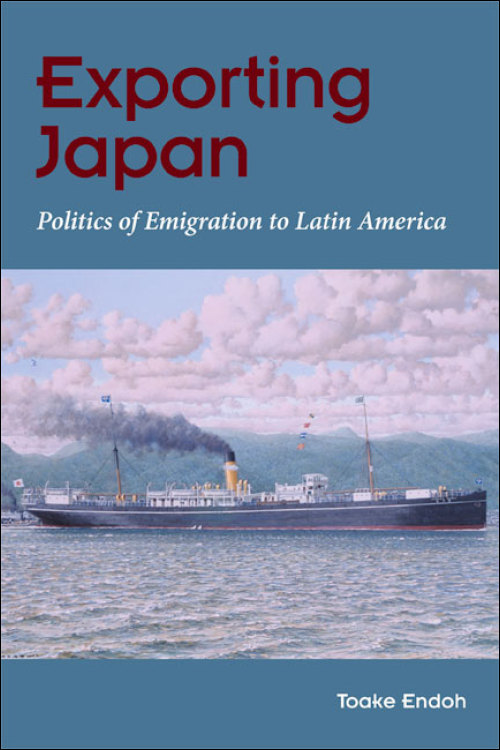 Exporting Japan
Politics of Emigration to Latin America
The untold history of the Japanese empire's expansionist migration to Latin America
Cloth – $54
978-0-252-03402-2
eBook – $19.95
978-0-252-09110-0
Publication Date
Cloth: 04/27/2009
About the Book
Exporting Japan
examines the domestic origins of the Japanese government's policies to promote the emigration of approximately three hundred thousand native Japanese citizens to Latin America between the 1890s and the 1960s. This imperialist policy, spanning two world wars and encompassing both the pre-World War II authoritarian government and the postwar conservative regime, reveals strategic efforts by the Japanese state to control its populace while building an expansive nation beyond its territorial borders.
Toake Endoh compellingly argues that Japan's emigration policy embodied the state's anxieties over domestic political stability and its intention to remove marginalized and radicalized social groups by relocating them abroad. Documenting the disproportionate focus of the southwest region of Japan as a source of emigrants, Endoh considers the state's motivations in formulating emigration policies that selected certain elements of the Japanese population for "export." She also recounts the situations migrants encountered once they reached Latin America, where they were often met with distrust and violence in the "yellow scare" of the pre-World War II period.
About the Author
Toake Endoh is an associate professor in the liberal arts department at Hawaii Tokai International College.
Reviews
"An intriguing and engaging read."--
Journal of Japanese Studies
"Skillfully unravels Japan's intricate domestic politics of emigration to Latin America before and after WW II."--
Enterprise & Society
"This s a well written and carefully researched book. . . . Endoh lays out a compelling argument."--
The Geographical Review
---
Blurbs
"Toake Endoh presents a very provocative set of arguments to resolve the paradoxes of Japanese emigration to Latin America from the late nineteenth century to the 1960s. A significant contribution to scholarship and a useful overview of Japanese emigration policy toward Latin America."--David L. Howell, author of Geographies of Identity in Nineteenth-Century Japan
---