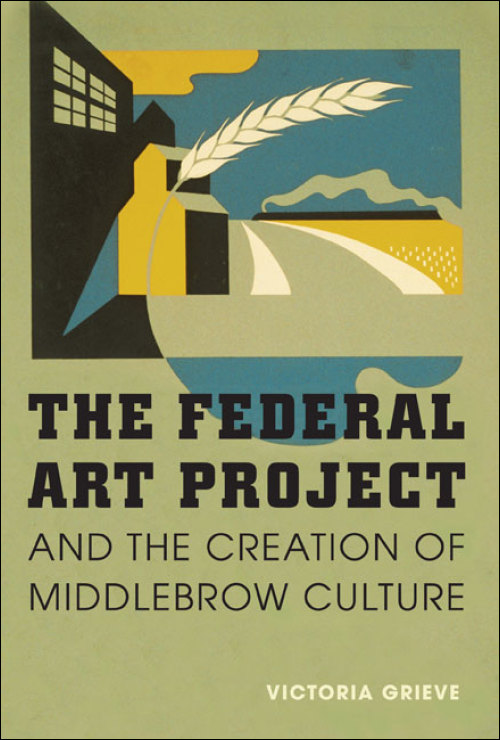 The Federal Art Project and the Creation of Middlebrow Culture
Art for everyone--the Federal Art Project's drive for middlebrow visual culture and identity
Cloth – $49
978-0-252-03421-3
Publication Date
Paperback: 07/22/2022
Cloth: 01/01/2009
About the Book
This intellectual history chronicles the processes of compromise and negotiation between high and low art, federal and local interests, and the Progressive Era and New Deal. Victoria Grieve examines how intellectual trends in the early twentieth century combined with government forces and structures of the New Deal's Federal Art Project to redefine American taste in the visual arts. Representing more than a response to the emergency of the Great Depression, the Federal Art Project was rooted in Progressive Era cultural theories, the modernist search for a usable past, and developments in the commercial art world in the early decades of the twentieth century. In their desire to create an art for the "common man," FAP artists and administrators used the power of the federal government to disseminate a specific view of American culture, one that combined ideals of uplift with those of accessibility: a middlebrow visual culture.
Grieve discusses efforts by thinkers and reformers such as John Dewey, John Cotton Dana, and Constance Rourke to democratize art amid a blossoming consumer culture around World War I. Against this backdrop of ideas about aesthetics and the purposes of art, Grieve explores how the FAP, more than merely employing artists during the Great Depression, used government resources to create a space for the "everyman" to make and appreciate art. Two programs in particular--the Index of American Design and the Community Art Center program--attempted to bring art to the masses. By the end of the 1930s, however, the nationalism and cultural egalitarianism of middlebrow visual art came under attack. But the FAP had laid the groundwork for a postwar resurgence of American art, and by the 1960s, the federal government would once again enter the cultural arena.
By linking the FAP to its roots in earlier cultural movements, The Federal Art Project and the Creation of Middlebrow Culture expands the historiography of the New Deal, illuminating the role of the visual arts in the 1930s. Focusing specifically on the fundamentally different and competing views of culture that informed the Federal Art Project, this study chronicles a controversial program that, to many, represented a unique opportunity to create a cultural democracy in America.
About the Author
Victoria Grieve is an assistant professor of history at Utah State University, where she is also curator of twentieth-century West Coast American Art at the Nora Eccles Harrison Museum of Art.
Reviews
"[Grieve's] tightly constructed and well-argued book touches on critical contemporary issues regarding federal funding of the arts, especially during times of economic distress."--
Journal of Illinois History
"Recommended."--
Choice
"An interesting, well-written and thought-provoking book."--
American Studies
---
Blurbs
"This rich study answers many important questions about an intriguing aspect of 1930s culture. The past several years have seen a growing interest in middlebrow culture, and this book will advance that current considerably."--Miles Orvell, author of After the Machine: Visual Arts and the Erasing of Cultural Boundaries

"An important and original contribution to our understanding of the role of the Federal Art Project in the context of larger twentieth-century intellectual conceptualizations of the role of art in society, especially regarding middle-class and working-class audiences. Essential reading in twentieth-century art history, folklore, public history, and popular intellectual history--and a pleasure to read."--Erika Brady, author of A Spiral Way: How the Phonograph Changed Ethnography
---