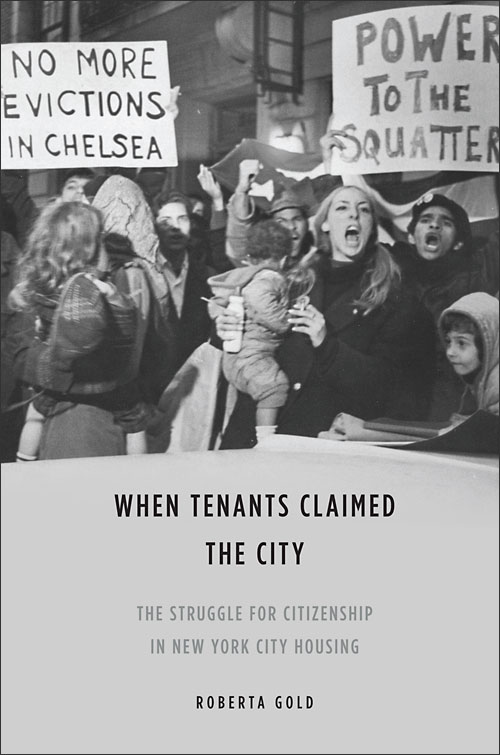 When Tenants Claimed the City
The Struggle for Citizenship in New York City Housing
The fight for tenant community rights in defiance of the new suburban American Dream
Cloth – $57
978-0-252-03818-1
eBook – $19.95
978-0-252-09598-6
Publication Date
Cloth: 03/24/2014
About the Book
In postwar America, not everyone wanted to move out of the city and into the suburbs. For decades before World War II, New York's tenants had organized to secure renters' rights. After the war, tenant activists raised the stakes by challenging the newly-dominant ideal of homeownership in racially segregated suburbs. They insisted that renters as well as owners had rights to stable, well-maintained homes, and they proposed that racially diverse urban communities held a right to remain in place--a right that outweighed owners' rights to raise rents, redevelop properties, or exclude tenants of color. Further, the activists asserted that women could participate fully in the political arenas where these matters were decided.
Grounded in archival research and oral history, When Tenants Claimed the City: The Struggle for Citizenship in New York City Housing shows that New York City's tenant movement made a significant claim to citizenship rights that came to accrue, both ideologically and legally, to homeownership in postwar America. Roberta Gold emphasizes the centrality of housing to the racial and class reorganization of the city after the war, the prominent role of women within the tenant movement, and their fostering of a concept of "community rights" grounded in their experience of living together in heterogeneous urban neighborhoods.
About the Author
Roberta Gold teaches history and American studies at Fordham University. She has been an active member of her tenants' association in Harlem for twenty years.
Reviews
"A well-researched and written study. . . . Highly recommended."--
Choice
"Roberta Gold ably chronicles tenant organization in New York City from the end of World War II through the 1970s. . . . Gold shows that women played a central role in tenant activities such as fighting redevelopments schemes and defending rent control but were less central in others, such as union-sponsored cooperatives. . . . A rich account of a movement that put its stamp on modern New York City."--
The Journal of American History
"Gold has a good feel for the racial, ethnic, and political complexity of New York City. . . . Gold deftly weaves together activist stories, housing and community-planning history, changing social conditions, and the existing literature from many fields--including women's studies, urban policy, sociology, African American history, and labor studies--to create a compelling narrative."--
American Historical Review
---
Blurbs
"Is the purchase of a single-family house in the suburbs really the only route to housing happiness? With vigorous, readable prose Roberta Gold uncovers the history of an alternative vision. In New York City, leftist men and women agitated for the rights of renters to build interracial, affordable, locally-controlled communities of apartment dwellers. As Americans contemplate the lessons of the last decade's foreclosure crisis, they would do well to consider the possibilities illuminated in When Tenants Claimed the City."--Amanda Seligman, author of Block by Block: Neighborhoods and Public Policy on Chicago's West Side
---