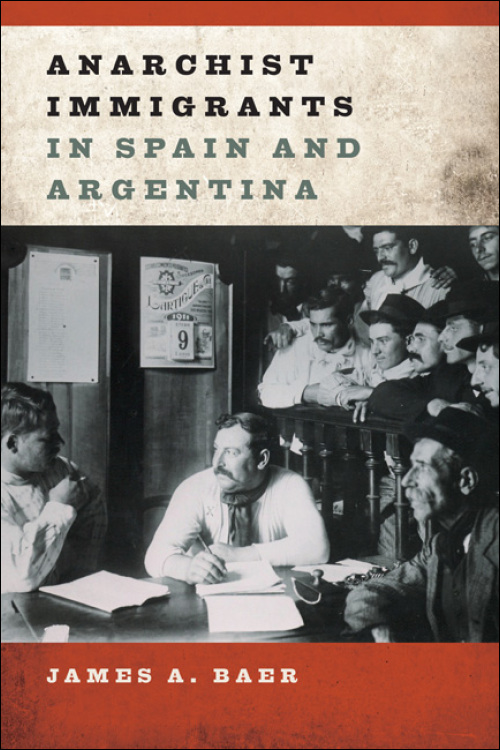 Anarchist Immigrants in Spain and Argentina
The transatlantic bonds between two entwined anarchist movements
Cloth – $55
978-0-252-03899-0
eBook – $19.95
978-0-252-09697-6
Publication Date
Cloth: 03/13/2015
About the Book
From 1868 through 1939, anarchists' migrations from Spain to Argentina and back again created a transnational ideology and influenced the movement's growth in each country.
James A. Baer follows the lives, careers, and travels of Diego Abad de Santillán, Manuel Villar, and other migrating anarchists to highlight the ideological and interpersonal relationships that defined a vital era in anarchist history. Drawing on extensive interviews with Abad de Santillán, José Grunfeld, and Jacobo Maguid, along with unusual access to anarchist records and networks, Baer uncovers the ways anarchist migrants in pursuit of jobs and political goals formed a critical nucleus of militants, binding the two countries in an ideological relationship that profoundly affected the history of both. He also considers the impact of reverse migration and discusses political decisions that had a hitherto unknown influence on the course of the Spanish Civil War.
Personal in perspective and transnational in scope, Anarchist Immigrants in Spain and Argentina offers an enlightening history of a movement and an era.
About the Author
James A. Baer is a professor of history at Northern Virginia Community College and Senior Research Fellow at the Council on Hemispheric Affairs in Washington, D.C.
Reviews
"Tackles the transnational story of anarchist immigrants as they moved back and forth between Spain and Argentina, demonstrating the important intellectual and personal ties many leading anarchists had with both countries. . . . A good contribution to the growing scholarship on the transnational links between leftist and revolutionary movements. Recommended."--
Choice
"A valiant attempt to study the dynamic exchange of anarchist migrants between Spain and Argentina. . . . an important contribution."--
International Review of Social History
"Undoubtedly, this original book can be recommended both to the general public looking to expand their knowledge of anarchism and to scholars and students, especially Spaniards, who have an extensive knowledge of Spanish anarchism but not the history of those ties established with Argentine anarchism and anarchists."--
Hispanic American Historical Review
"This book has much to offer. Its fine weaving of the ties between personal histories of South Atlantic anarchists and international intellectual and political flows should appeal to students of history and political science, as well as to specialists researching the history of radical political movements and transatlantic immigration in the twentieth century."--
American Historical Review
"An excellent contribution to the historiography and is relevant not only to those interested in political and migration history, but also to scholars and members of the general public seeking a better understanding of the interconnections between Europe and Latin America."--
Canadian Journal of History
"A well researched and important contribution to the study of both anarchism and transatlantic migration. . . . This book therefore challenges us to think in new and exciting ways about the history of transnational migration and radicalism."--
Pacific Historical Review
---
Blurbs
"Drawing on current conceptions of transnational and migration processes and networks, this study is a welcome corrective to the standard nation-centered treatments of anarchism in Spain and Argentina. Baer's detailed prosopographical analysis of a decisive nucleus of Spanish anarchist thinkers and militants whose activism extended to both sides of the Atlantic enriches and advances our understanding of the mutually constitutive character of Spanish and Argentine anarchism."--Steven J. Hirsch, Washington University in St. Louis

"While there is no shortage of histories about anarchism in either Spain or Argentina, James Baer's Anarchist Immigrants in Spain and Argentina provides a fresh look at how anarchism in each country influenced the other. Baer's transnational approach illustrates how anarchists from Spain played key roles in Argentine organizations, newspapers, and ideological disputes. Some of these same anarchists from Spain, who often had lived years, if not decades, in Argentina, returned to Spain and were joined by Argentine-born anarchists who then shaped Iberian organizations and debates. This is especially clear in the case of the Spanish Civil War, where Baer skillfully recounts the war and the role of these transnational anarchists--many of whom then fled back to Argentina as the Republic was collapsing."--Kirwin Shaffer, author of Black Flag Boricuas: Anarchism, Antiauthoritarianism, and the Left in Puerto Rico, 1897-1921
---