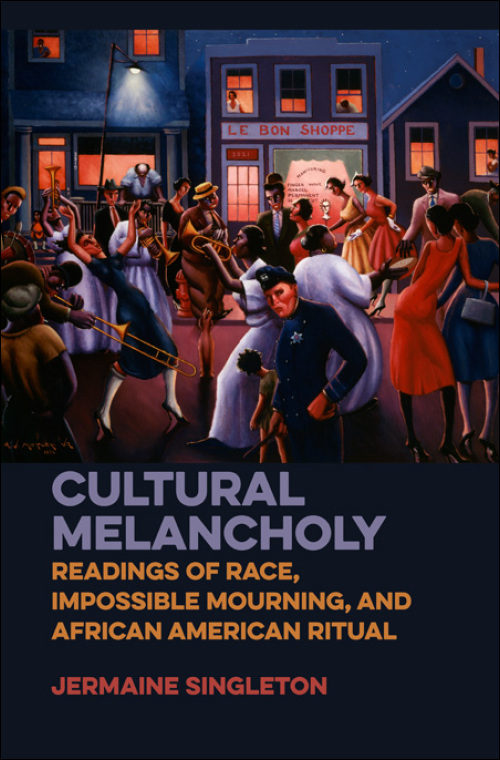 Cultural Melancholy
Readings of Race, Impossible Mourning, and African American Ritual
Counteracting the racial legacy effects that plague our contemporary multiculture
Cloth – $50
978-0-252-03962-1
eBook – $19.95
978-0-252-09771-3
Publication Date
Cloth: 12/07/2015
About the Book
A daring cultural and literary studies investigation,
Cultural Melancholy
explores the legacy of unresolved grief produced by ongoing racial oppression and resistance in the United States. Using acute analysis of literature, drama, musical performance, and film, Singleton demonstrates how rituals of racialization and resistance transfer and transform melancholy discreetly across time, consolidating racial identities and communities along the way. He also argues that this form of impossible mourning binds racialized identities across time and social space by way of cultural resistance efforts.
Singleton develops the concept of "cultural melancholy" as a response to scholarship that calls for the separation of critical race studies and psychoanalysis, excludes queer theoretical approaches from readings of African American literatures and cultures, and overlooks the status of racialized performance culture as a site of serious academic theorization. In doing so, he weaves critical race studies, psychoanalysis, queer theory, and performance studies into conversation to uncover a host of hidden dialogues—psychic and social, personal and political, individual and collective—for the purpose of promoting a culture of racial grieving, critical race consciousness, and collective agency.
Wide-ranging and theoretically bold, Cultural Melancholy counteracts the racial legacy effects that plague our twenty-first century multiculture.
About the Author
Jermaine Singleton is an associate professor of English at Hamline University.
Reviews
---
Blurbs
"Jermaine Singleton's Cultural Melancholy is a provocative book that will be well-received in the field of racial melancholia studies, and there is no doubt in my mind that it makes an excellent contribution to performance studies."--Abdul R. JanMohamed, University of California, Berkeley

"Interesting, fluid, and compelling. Singleton marshals the relevant research on racial mourning and historical trauma to focus specifically on how performance affects the process of working through."--Gwen Bergner, author of Taboo Subjects: Race, Sex, and Psychoanalysis
---