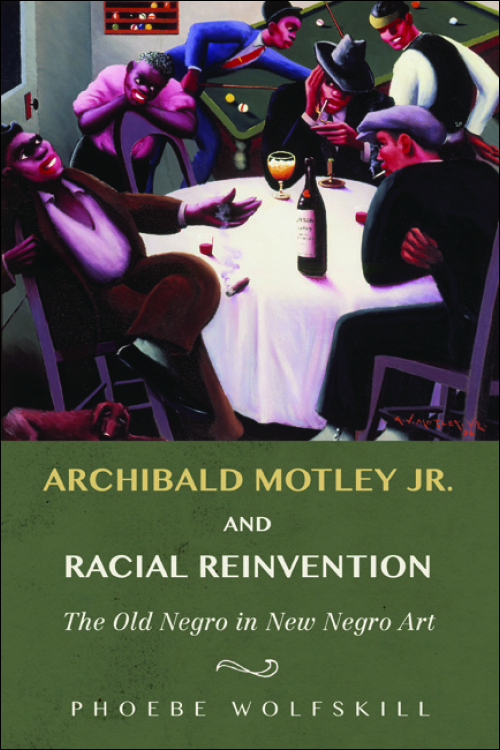 Archibald Motley Jr. and Racial Reinvention
The Old Negro in New Negro Art
The painter's struggle at the crossroads of artistic expression and social progress
Cloth – $45
978-0-252-04114-3
eBook – $19.95
978-0-252-09970-0
Publication Date
Cloth: 09/04/2017
About the Book
An essential African American artist of his era, Archibald Motley Jr. created paintings of black Chicago that aligned him with the revisionist aims of the New Negro Renaissance. Yet Motley's approach to constructing a New Negro--a dignified figure both accomplished and worthy of respect--reflected the challenges faced by African American artists working on the project of racial reinvention and uplift.
Phoebe Wolfskill demonstrates how Motley's art embodied the tenuous nature of the Black Renaissance and the wide range of ideas that structured it. Focusing on key works in Motley's oeuvre, Wolfskill reveals the artist's complexity and the variety of influences that informed his work. Motley's paintings suggest that the racist, problematic image of the Old Negro was not a relic of the past but an influence that pervaded the Black Renaissance. Exploring Motley in relation to works by notable black and non-black contemporaries, Wolfskill reinterprets Motley's oeuvre as part of a broad effort to define American cultural identity through race, class, gender, religion, and regional affiliation.
About the Author
Phoebe Wolfskill is an assistant professor of African American and African diaspora studies and adjunct professor of art history at Indiana University, Bloomington. She is the coeditor of Beholding Christ and Christianity in African American Art.
Reviews
"In
Archibald Motley Jr. and Racial Reinvention: The Old Negro in New Negro Art
, Wolfskill has composed a well-researched, insightful, and nuanced account that forces a reconceptualization of an artist and an era." --
CAA.Reviews
---
Blurbs
"In this engaging and well-researched book, Phoebe Wolfskill enlists the career of early twentieth-century Chicago painter Archibald Motley as a paradigm for considering the difficulties facing African American artists who have lived with cultural stereotypes their whole lives. Through a judicious balancing of insights derived from the careful analysis of individual paintings with a wide range of cultural, artistic, social, and theoretical references, Wolfskill honors the complex underpinnings of Motley's works and explains the contradictions within them. As a whole, the book both provides an internal coherence to Motley's career and successfully demonstrates his relation to other American artists of the period who similarly concerned themselves with questions of identity and representation during the interwar decades."--Mary Ann Calo, author of Distinction and Denial: Race, Nation, and the Critical Construction of the African American Artist, 1920-1940

"A satisfyingly inquisitive foray into the complications of an African American artist grappling with his own uneasy relationship to matters of race, gender, class, culture, and modernism. Wolfskill provides a welcomed critical probing and less romanticized account of the Harlem Renaissance."--James Smalls, author of Homosexuality in Art
---