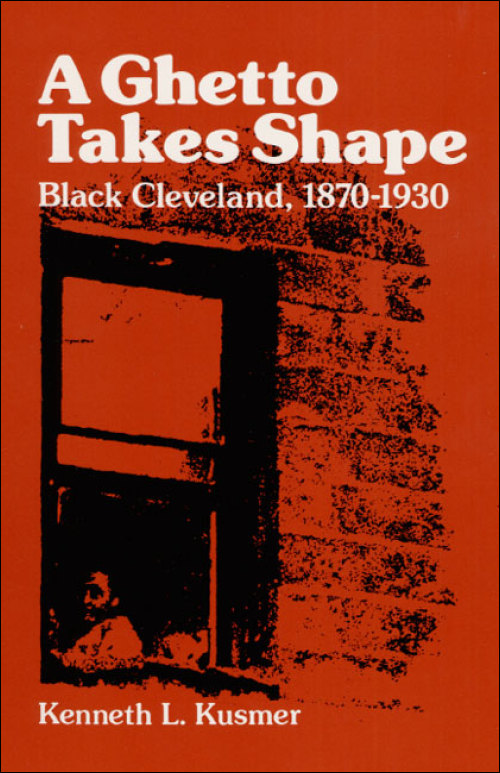 A Ghetto Takes Shape
Black Cleveland, 1870-1930
Black life in Cleveland from near-equality to segregation and poverty
Paper – $28
978-0-252-00690-6
Publication Date
Paperback: 01/01/1978
About the Book
In 1865, the Cleveland
Leader
boasted that black citizens enjoyed a freedom of education and movement unparalleled in other cities. Fifty years later, a majority of the black population lived in the run-down Central Avenue district of town.
Kenneth Kusmer analyzes the emergence of a ghetto in Cleveland by delving into economic, political, social, and cultural realities of black life. Drawing on local archives. Kusmer compares the position of blacks in the social order with that of immigrants and native whites. Drawing on local archives and a wealth of data on jobs, he also contrasts Cleveland with cities like New York, Chicago, and Boston in order to reveal the complex causes and effects behind the emergence of black ghettos. As Kusmer concludes, it was the isolation of the ghetto and the sense of unique goals and needs it fostered that helped unify the black citizens and provided the practical basis for the future struggles against racism.
About the Author
Kenneth L. Kusmer is a professor emeritus in the College of Liberal Arts at Temple University and the author of Down and Out, On the Road: The Homeless in American History.
Reviews
"Kenneth L. Kusmer has written the best book yet on the formation of a black urban ghetto. It stands as a tribute to the blend of urban and Afro-American history."--Howard P. Chudacoff, American Historical Review

"What makes Kusmer stand out among books on blacks in the urban North is the breadth and sophistication with which he conceptualizes his study. . . . The grace and intelligence of Kusmer make his book the single best study of the shaping of modern black ghettos. . . . Should be greeted warmly by historians of blacks and of urban America."--Nancy Weiss, Reviews in American History

"Drawing upon a variety of statistical and literary primary sources . . . Kusmer presents a richly documented case study. His felicitously lucid and comprehensive analysis of the growth of one black ghetto promises to provide a model for future historians of the second major chapter in the Afro-American experience. In my view, Kusmer's multifaceted historical analysis of black Cleveland represents the finest case study of an urban black community to appear in the past decade."--Marion Kilson, Journal of Interdisciplinary History

"Instead of fixing upon the pathological aspects of the ghetto or the racial discriminations of the white majority he finds his unifying theme in the leadership and decision0making within the black community. This is a richly detailed and thoughtfully constructed book."--Louis R. Harlan, Journal of American History
---