The Sanitarians
A History of American Public Health
Paper – $28
978-0-252-06276-6
Publication Date
Paperback: 01/01/1992
About the Book
In this first modern history of public health services in the United States, John Duffy traces the evolution of the field from the late 1700s to the present. One of the leading authorities on American medical history and public health, Duffy provides a panoramic view of its development, skillfully detailing how services have evolved to fit into the broader framework of American social, political, and economic change.
Early communal efforts in public health were aimed at regulating food and water supplies, providing for the proper disposal of human wastes, and preventing the spread of epidemic diseases by quarantine methods. Duffy identifies the first significant American development as the appearance of temporary boards of health during a series of major yellow fever attacks in East Coast cities between 1793 and 1806. The growth of urban centers in the second half of the nineteenth century led to the establishment of permanent health agencies as a means of coping with increasing health and sanitary problems. With the discovery of the role of bacteria, Duffy writes, public health departments moved to virtually eliminate major contagious diseases in the first half of the twentieth century, gradually shifting their focus from sanitation and infection to organic disorders, environmental conditions, and other problems inherent to advanced industrial societies.
About the Author
John Duffy
is a former president of the American Association for the History od Medicine and author of
The Healers: A History of American Medicine;
the two-volume works
The Rudolph Mates History of Medicine in Louisiana
and
A History of Public Health in New York City
(vol. 1,
1625-1866,
vol. 2,
1866-1966
); and a number of other books and articles on the history of public health and medicine.
---
Also by this author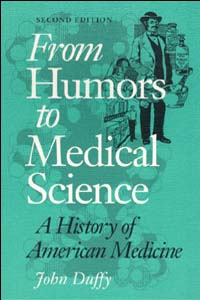 Reviews
"Duffy's book spans four centuries and presents the reader with an excellent picture of how public health issues emerges, developed, and changed over time. It is an admirable undertaking, and one that few public health historians would be capable of writing."--Jacqueline Karnell Corn, author of Environment and Health in 19th Century American

"This work fills a yawning gap in the literature. . . . One of the great strengths of Duffy's work is its comprehensiveness. The book will command a broad audience of readers interested in public health and community medicine."--Stuart Galishoff, author of Newark, the Nation's Unhealthiest City, 1832-1895
---