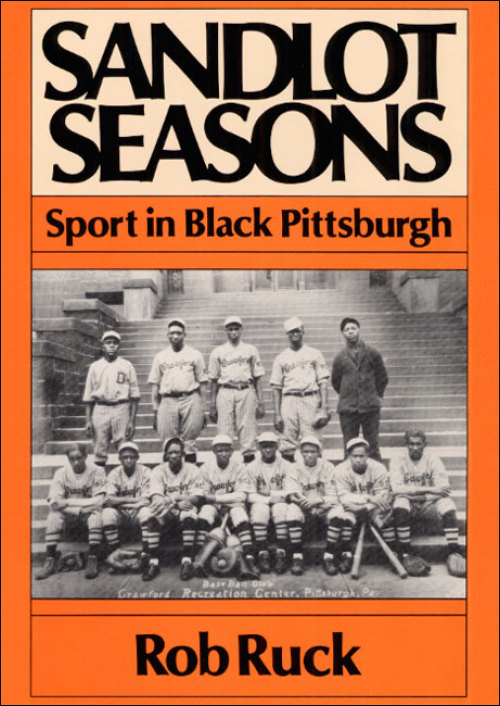 Sandlot Seasons
Sport in Black Pittsburgh
African Americans, sport, and community in the Steel City
Paper – $27
978-0-252-06342-8
Publication Date
Paperback: 01/01/1993
About the Book
From the Roaring Twenties through the Korean War, sport played a major role in shaping Pittsburgh's African American community. Rob Ruck focuses on this period to reveal how sandlot, amateur, and professional athletics helped black Pittsburgh realize its potential for self-organization, expression, and creativity.
Ruck shows that, until the advent of television and the commercialization of sport, sandlot and Negro League teams such as the Pittsburgh Crawfords and the Homestead Grays (baseball) and the Garfield Eagles (football) had a profound impact on life throughout the black community. In the process, he provides a rich description of the many meanings of sport for blacks beyond the traditional, if often illusory, ticket out of poverty.
About the Author
Rob Ruck is a professor in the Department of History at the University of Pittsburgh. His books include Tropic of Football: The Long and Perilous Journey of Samoans to the NFL and Raceball: How the Major Leagues Colonized the Black and Latin Game.
Reviews
"Pittsburgh was historically a center of black sports life, home of fabled baseball Crawfords and Homestead Grays (who began as a team of black steelworkers), as well as of a dense neighborhood working-class sports life unknown in New York or Chicago. Rob Ruck, in an impressive feat of research, resting heavily on oral history, resurrects the animated scene."--In These Times

"A masterful job. . . . Well written and thoroughly documented."--Journal of Sports History

"Making excellent use of oral history interviews, Ruck goes beyond mere sports trivia. He paints a vivid portrait of an urban society and its love affair with a sporting life it produced and controlled. Highly recommended."--Library Journal
---