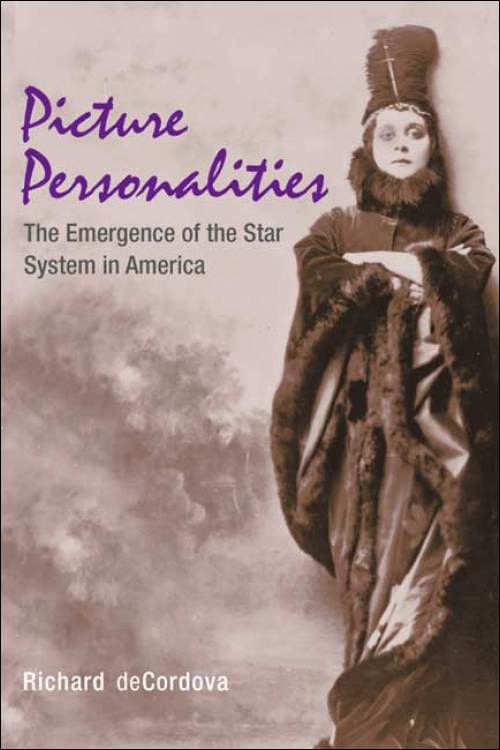 Picture Personalities
The Emergence of the Star System in America
Foreword by Corey K. Creekmur
Paper – $24
978-0-252-07016-7
Publication Date
Paperback: 01/01/2001
About the Book
Moving pictures existed for over a decade before anything resembling a star system appeared. Then, within the space of a very few years, American cinema went from being completely devoid of stars to being completely dependent on them. Picture Personalities is an invaluable account of this crucial development in cinema and modern culture.
Conventional wisdom attributes the rise of the star system to the charisma of individual performers or to the public's desire to idolize an appealing star. In Picture Personalities, Richard deCordova argues that the fledgling movie industry and the press conspired to develop the star system, along with a system of discourse to support it.
How actors became stars and how they began to assume public identities distinct from their fictional roles was closely tied to the journalistic discourse of the period, produced by the trade press, newspapers, general periodicals, fan magazines, publicity stills, posters, and other material. DeCordova shows how the studios worked to fabricate moral images of the stars' marriages and personal lives and how a series of star scandals in the 1920s challenged those images and brought about changes in the conventions of representing stars. A new foreword by Corey K. Creekmur enhances this first paperback edition.
About the Author
Richard deCordova was an associate professor in the Department of Communication at De Paul University. Corey K. Creekmur, an associate professor of English at the University of Iowa, is coeditor of Out in Culture: Gay, Lesbian, and Queer Essays on Popular Culture.
Reviews
"This is film history at its best, relying on a wealth of archival sources to reject, refine, and clarify the received history, sifted through a sophisticated theoretical model of relationship between culture, industry, and consumer. It all adds up to the definitive tale of the myth of Hollywood stardom."--David Desser, coauthor of American-Jewish Filmmakers: Traditions and Trends
---