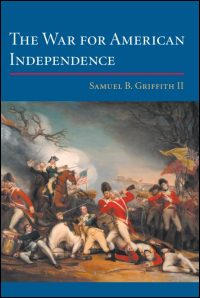 The War for American Independence
From 1760 to the Surrender at Yorktown in 1781
Paper – $25.95
978-0-252-07060-0
Publication Date: June 2002
About the Book
Including both attention to strategic policies in Britain and France and personal accounts of colonial soldiers,
The War for American Independence
provides an unprecedented view of America's struggle for independence in its world context. With wit, clarity, and dramatic effect, Samuel B. Griffith II vivifies the characters and incidents of the period on both sides of the Atlantic, drawing from personal diaries and letters, newspaper accounts, and detailed battle maps to create a unique alternative to standard histories of the period.
This enduring and exceptionally readable resource, first published in 1976 under the title In Defense of the Public Liberty: Britain, America, and the Struggle for Independence from 1760 to the Surrender at Yorktown in 1781, was honored with the Sons of Liberty Award for the best book on the American Revolution.
About the Author
Brigadier General Samuel B. Griffith II, U.S.M.C.,
was wounded at Guadalcanal and was awarded the Navy Cross in 1942 and the Army Distinguished Service Cross in 1943. He earned his Ph.D. in Chinese military history at New College, Oxford University, and published articles and essays in the
New Yorker, Town and Country,
and the
Saturday Evening Post.
He also published the book
Battle for Guadalcanal
and translated Mao Tse-Tung's
On Guerrilla Warfare.
---
Also by this author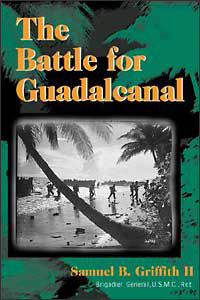 Reviews
"A book on the American Revolution so fresh and continually surprising is a miracle at this time. It is sharp, fast, and beautifully written. . . . General Griffith has made it, for once, a two-sided war."--Barbara Tuchman
"It is the insights which the author derives from his own military experience and his willingness to share these so frankly with the reader that gives the book its distinctive character. . . . It is, in the best sense, a soldier's view of the war."--
Economist
"An exhaustive and well-written political and military account of our War for Independence from primary sources."--
National Review
"Well-written, interesting, balanced in judgment, and historically sound."--
Library Journal
---
Blurbs
REVIEWS OF HARDCOVER EDITION"A book on the American Revolution so fresh and continually surprising is a miracle at this time. It is sharp, fast, and beautifully written. . . . General Griffith has made it, for once, a two-sided war."--Barbara Tuchman
---