Controlling the Silver
A new collection of elegies and praise songs which explore the close link between history and genealogy in the Caribbean experience
Paper – $19
978-0-252-07212-3
eBook – $19.95
978-0-252-09138-4
Publication Date
Paperback: 01/01/2004
Cloth: 12/06/2004
About the Book
Renowned poet Lorna Goodison has written a new collection of elegies and praise songs which explore the close link between history and genealogy in the Caribbean experience. Her subjects range from the economic genius of market women to the complex beauty of the natural world.
About the Author
Lorna Goodison
is an associate professor of English at the University of Michigan. Her work appears in the new Norton Anthology of Modern and Contemporary Poetry, and her honors include the Musgrave Gold Medal from the Institute of Jamaica and the prestigious Henry Russel Award from the University of Michigan. Her previous books include
To Us, All Flowers are Roses, Turn Thanks,
and
Travelling Mercies.
---
Also by this author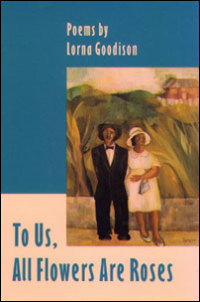 Reviews
"Superlatives glint all over commentary on Lorna Goodison's work these days. She is now 'one of the greatest!,' 'one of the most important,' 'a singular voice,' 'a poet of great stature' and of course 'one of the best writing in English today.' She deserves all of this. . . . She is solidly located in the trinity of Caribbean writing. It is now, officially, Walcott, Braithwaite and Goodison."--Kwame Dawes, Caribbean Writer

"A poetry that is both innocently free-ranging and intellectually sharp, sensuously abundant yet elegantly restrained."--Times Literary Supplement

"A world class writer."--Globe and Mail
---