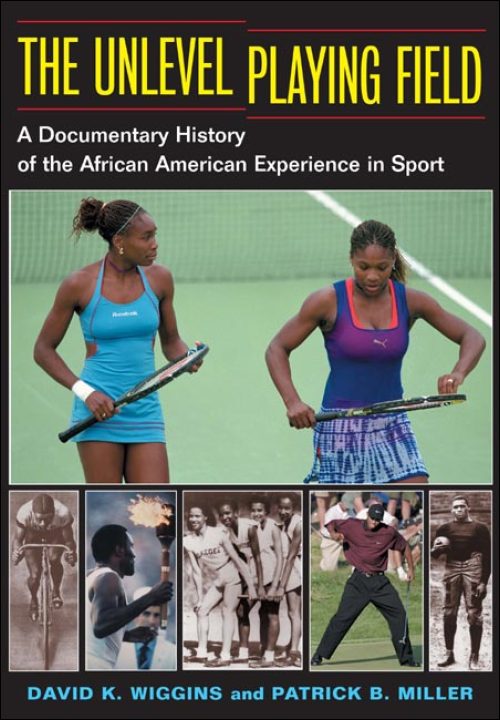 The Unlevel Playing Field
A Documentary History of the African American Experience in Sport
Black athletes and the role of sports in the history of race relations in the United States
Paper – $28
978-0-252-07272-7
Publication Date
Paperback: 04/04/2005
About the Book
The Unlevel Playing Field
offers a rich compendium of more than 100 primary sources that chart the intertwining history of African Americans and sport. Introductions and head-notes provided by David K. Wiggins and Patrick B. Miller place each document in context, shaping an unrivaled narrative.
Readers will find dozens of accounts by Frederick Douglass, W. E. B. DuBois, Booker T. Washington, Marcus Garvey, James Weldon Johnson, Richard Wright, A. S. "Doc" Young, Eldredge Cleaver, Nikki Giovanni, John Edgar Wideman, bell hooks, James Baldwin, Roy Wilkins, Henry Louis Gates, Gerald Early, and many others.
The documents range from discussions of the color line in organized baseball during the Jim Crow era and portraits of turn-of-the-century figures like the champion sprint cyclist Marshall "Major" Taylor and boxer Jack Johnson. Writers also look at modern-day issues like the participation of black athletes in the 1968 Olympics, the place of African American women in sport, and examine pioneering figures like Jackie Robinson, Muhammad Ali, Althea Gibson, Michael Jordan, Tiger Woods, and Venus and Serena Williams.
About the Author
David K. Wiggins is Director of the School of Recreation, Health, and Tourism and professor emeritus of history at George Mason University. He is the author of Glory Bound: Black Athletes in a White America. Patrick B. Miller teaches history at Northeastern Illinois University and is the editor of The Sporting World of the Modern South.
Reviews
"An excellent addition to the literature not only of sports but also of history and race relations in the US."--
Choice
---
Blurbs
"Wiggins and Miller have produced an astonishingly fine book that chronicles the intersection of race, sports, and social change using an impressive and comprehensive array of primary documents. All future discussions pertaining to the African American experience in sports must begin with The Unlevel Playing Field."--Lonnie Bunch, coauthor of The American Presidency: A Glorious Burden

"The Unlevel Playing Field is a goldmine full of scholarly finds. This is a long-needed resource for those who not only want to know the history of blacks and sports, but also to have it told, in many instances, by the actual participants or prominent observers of the time. There are historical, cultural, sociological, and business nuggets to be found in every section of this important book."--Kenneth Shropshire, author of In Black and White: Race and Sports in America
---