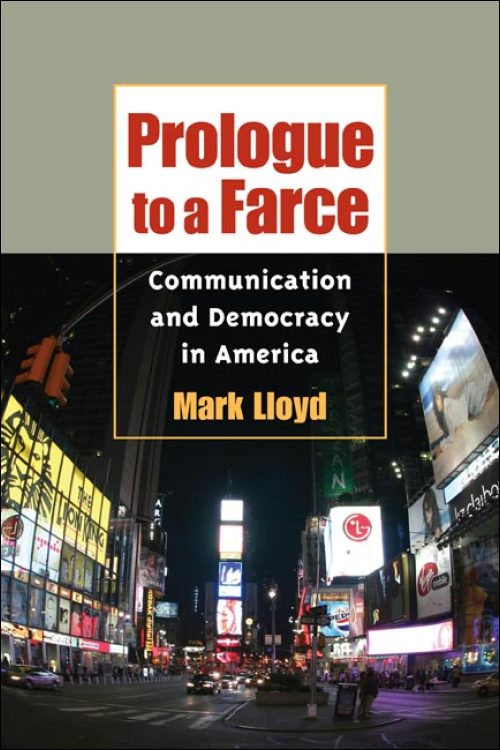 Prologue to a Farce
Communication and Democracy in America
Curing an American media where market interests have usurped democratic participation
Paper – $32
978-0-252-07342-7
eBook – $19.95
978-0-252-09175-9
Publication Date
Paperback: 01/01/2006
Cloth: 12/29/2006
About the Book
"A popular Government without popular information or the means of acquiring it, is but a Prologue to a Farce or a Tragedy or perhaps both."--James Madison, 1822
Mark Lloyd has crafted a complex and powerful assessment of the relationship between communication and democracy in the United States. In
Prologue to a Farce,
he argues that citizens' political capabilities depend on broad public access to media technologies, but that the U.S. communications environment has become unfairly dominated by corporate interests.
Drawing on a wealth of historical sources, Lloyd demonstrates that despite the persistent hope that a new technology (from the telegraph to the Internet) will rise to serve the needs of the republic, none has solved the fundamental problems created by corporate domination. After examining failed alternatives to the strong publicly owned communications model, such as antitrust regulation, the public trustee rules of the Federal Communications Commission, and the underfunded public broadcasting service, Lloyd argues that we must re-create a modern version of the Founder's communications environment, and offers concrete strategies aimed at empowering citizens.
About the Author
Mark Lloyd is a clinical professor of communication at the University of Southern California. He is also a communications lawyer, award-winning broadcast journalist, and former chief diversity officer at the Federal Communications Commission.
Reviews
"Marshaling a wide range of sources, Lloyd's historical analysis of the politics of communication in the United States is one of the best available."--
Journal of American History
"Mark Lloyd offers a wide-ranging chronicle of American communication policy from the founding of the republic through the present day. This work is unique among historical examinations of American communication policy in that it is less about reforming media than about reforming democracy by providing citizens with full access to important public information and thereby restoring public dialogue to its central position as intended by the nation's founders."--
American Journalism
"Lloyd . . . has both law and journalism credentials and experience, and here he offers a critical history of American telecommunications and media policy. His theme is corporate domination, repeated with each succeeding technology, and how it prevents the media from offering true public value. . . . Lloyd offers a lot of food for thought. Highly recommended."--
Choice
---
Blurbs
"Mark Lloyd has written arguably the finest introduction to American media policy history I have read. Featuring an original and compelling argument, Lloyd draws not only upon extensive research but on his many years of experience as a public interest advocate. Prologue to a Farce should be required reading for media students, teachers, practitioners, and concerned citizens nationwide."--Robert W. McChesney, author of The Problem of the Media

"A passionate, thoughtful account of our society's failure to use communications media in ways that enlarge democracy. A book for citizens as well as scholars of media and politics."--David Thorburn, Massachusetts Institute of Technology
---