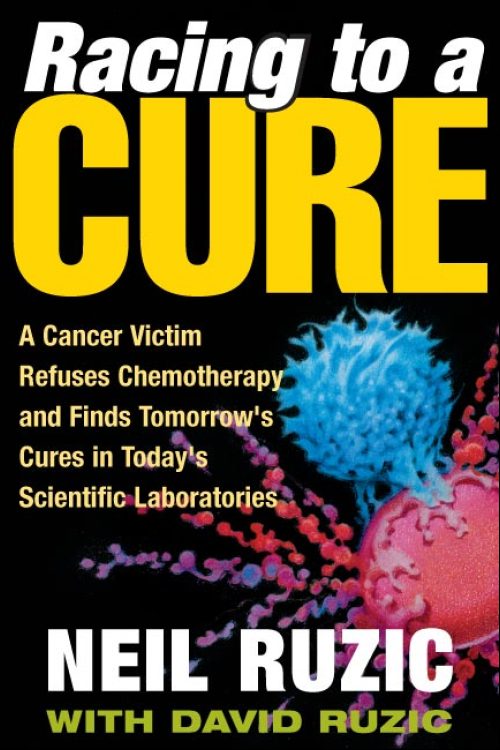 Racing to a Cure
A Cancer Victim Refuses Chemotherapy and Finds Tomorrow's Cures in Today's Scientific Laboratories
A Cancer Memoir detailing the serach for new biotherapies in cancer treatment while encouraging others to research, question, and become self-advocates for their own treatments.
Paper – $20.95
978-0-252-07357-1
Publication Date
Paperback: 02/01/2006
About the Book
Racing to a Cure
is not a cancer memoir. It is a cancer cure memoir. In 1998 Neil Ruzic was diagnosed with mantle-cell lymphoma, the deadliest cancer of the lymph system, whose spread is reaching epidemic levels in the U.S. and Europe. Instead of following recommended courses of chemotherapy and radiation, he took control of his treatment by investigating cures being developed in the nation's cancer-research laboratories.
Although chemotherapy harms the immune system and is increasingly demonstrated to be an ineffective long-term cure for the vast majority of cancers, it remains the standard treatment for most cancer patients. Ruzic, a former scientific magazine publisher and originator of a science center, refused to accept this status quo, and instead plunged into the world of cutting-edge treatments, exploring the frontiers of cancer science with revolutionary results.
Ruzic went on the offensive: visiting scores of laboratories, gathering information, talking to researchers, and effectively becoming his own patient-care advocate. This book presents his findings. A scathing critique of the chemotherapy culture as well as unscientific "alternative" therapies, the book endorses state-of-the-art molecularly based technologies, making it an illuminating and necessary read for anyone interested in cancer research, especially patients and their families and physicians.
Neil Ruzic was expected to die within two years of his initial diagnosis. Five years later he has been declared cancer-free and considers himself cured.
About the Author
Neil Ruzic is the founder and former publisher of several worldwide scientific magazines, including Industrial Research and Oceanology International. He is also the author of 250 articles and 11 books, including Where the Winds Sleep and The Shallow Sea. He established the R&D 100, (the annual awards program for applied physical research scientists); holds the first patent for a device to be used on the moon; and founded the Island for Science, Inc., a place for scientists and engineers to collaborate on interdisciplinary research projects.
Reviews
"In September 1998 publisher and scientific journalist Ruzic was diagnosed with mantle-cell lymphoma. . . . He faced a prognosticated further life-span of 18 months, and that would be made insufferable by side effects from the prescribed chemotherapy. . . . His scientific mind was certain that there were other, perhaps more effective and certainly less deadly treatment options, if one could find them. He made finding a cure for his cancer a full-time job. . . . He discovered that an abundance of biological therapies is being developed in the scientific, rather than the strictly medical arena, and he reports that those biotherapies and vaccines are proving highly effective for cancer treatment. His well-written memoir recounts a four-year odyssey that took him from splenectomy and diagnosis, through successfully ditching chemotherapy in favor of biotherapy, and to what he boldly calls a cure."--
Booklist
(starred review)"[Ruzic] here chronicles his pursuit of a nontoxic cure for his mantle-cell lymphoma. No ordinary patient memoir, this book provides an intriguing glimpse into the world of cutting-edge cancer research from the perspective of a well-heeled, highly educated patient willing to challenge conventional medical wisdom. Instead of undergoing chemotherapy and a bone-marrow transplant, recommended by several oncologists despite poor survival rates, Ruzic visits cancer research laboratories around the country, attempting to enter clinical trials for new biotherapies such as monoclonal antibodies and vaccines. Though eventually successful, he is hampered at every turn by aspects of what he terms the 'Chemo Culture' oncologists who insist on toxic chemotherapy while ignoring newer, safer options and FDA regulations that require chemotherapy before a patient can enroll in clinical trials of new therapies. . . . His arguments are thought-provoking and deserve a wide audience. Recommended for academic, medical, public, and consumer health collections."--
Library Journal
---
Blurbs
"In this extraordinary book, we encounter the experience and science of cancer through the lens of a delightful and sophisticated writer. Exploring the landscape of American research landscape with intelligence and passion, Neil Ruzic leads us to the important and surprising conclusion that the immune system is a central agent for cancer cure. This insight frames important new ways that patients and their families should understand and select their cancer care, and new research and clinical priorities for scientists, physicians, and policy makers."--Dr. Jonathan Braun, Immunologist, UCLA

"Ruzic's experience in fighting his own cancer is a gripping story. He shows us how to fight cancer and win. One case does not prove a theory, but this experience has opened my eyes to the power of the patient as his own advocate to cure his own cancer while extending the frontiers of medical knowledge. Cancer patients and friends and family members who wish to understand their treatment better will have their horizons broadened by reading Ruzic's remarkable saga."--Dr. Carl June, Immunologist, University of Pennsylvania

"The days of the authoritarian Doctor telling patients what is good for them should be over. Racing to a Cure helps educate and empower both physicians and patients to enter in a partnership of care." --Dr. David Granet, Pediatric Ophthalmologist, University of California San Diego

"With the large number of recent discoveries quickly going into the clinic, it is important to make patients aware of the numerous possibilities and options available to them and to remind physicians of these potential therapies. I plan to give copies to all my students."--Dr. Phillip Koeffler [awaiting bio]

"This book needs to be read by all cancer patients and their families throughout the world, and by the physicians treating them." --Dr. Wolf-Karsten Hofmann, Hematologist and Senior Researcher at the University Hospital of Frankfurt/Main
---