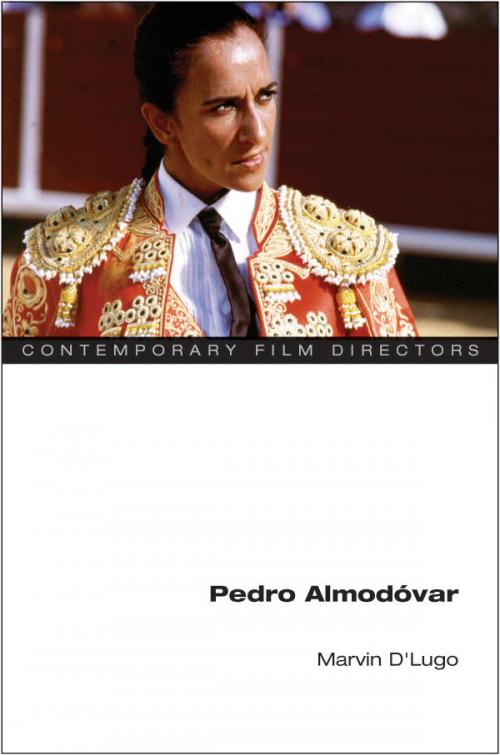 Pedro Almodovar
Pedro Almodovar and his cinema
Paper – $22
978-0-252-07361-8
eBook – $19.95
978-0-252-05471-6
Publication Date
Paperback: 07/31/2006
About the Book
Perhaps the best-known Spanish filmmaker to international audiences, Pedro Almodovar gained the widespread attention of English-speaking critics and fans with the Oscar-nominated
Women on the Verge of a Nervous Breakdown
and the celebrated dark comedy
Tie Me Up! Tie Me Down!
.
Marvin D'Lugo offers a concise, informed, and insightful commentary on a preeminent force in modern cinema. D'Lugo follows Almodovar's career chronologically, tracing the director's works and their increasing complexity in terms of theme and the Spanish film tradition. Drawing on a wide range of critical sources, D'Lugo explores Almodovar's use of melodrama and Hollywood genre film, his self-invention as a filmmaker, and his on-screen sexual politics. D'Lugo also discusses what he calls "geocultural positioning," that is, Almodovar's paradoxical ability to use his marginal positions—in terms of his class, geographical origin, and identity—to develop an expressive language that is emotionally recognizable by audiences worldwide. Two fascinating interviews with the director round out the volume.
An exciting consideration of an arthouse giant, Pedro Almodovar mixes original interpretations into an analysis sure to reward film students and specialists alike.
About the Author
Marvin D'Lugo is a professor of Spanish and adjunct professor of screen studies at Clark University. He is the author of The Films of Carlos Saura: The Practice of Seeing, and Guide to Cinema in Spain and coeditor of A Companion to Pedro Almodovar.
Reviews
"For fans and film students alike, D'Lugo's contribution to the Contemporary Film Directors series celebrates the director's camp aesthetic and artistic sensibilities with insight and elan."--
Publishers Weekly
"[D'Lugo] significantly extends the critical discourse on Almodovar's work by focusing on the cluster of ambiguities and polarities that sustain the most controversial aspects of Almodovar's authorship."--
Screening The Past
---
Blurbs
"Providing a thoroughly researched synthesis of the many years of study of Almodovar's work by other scholars in both Spanish and English, D'Lugo nevertheless makes the narrative his own through contrasting Almodovar's early films to the films that inspired the director and the ones he seemed to revile and react to, and by emphasizing the auteur's own role in the creation of his personality as a celebrity-author ... With such a thorough and well-written book as D'Lugo's, a full appreciation of ... the genius of its creator has become a lot easier and more enjoyable."--European-films.net

"A valuable introduction to, and summation of, the career of one of the world's most provocative and interesting film directors."--The Gay & Lesbian Review
---