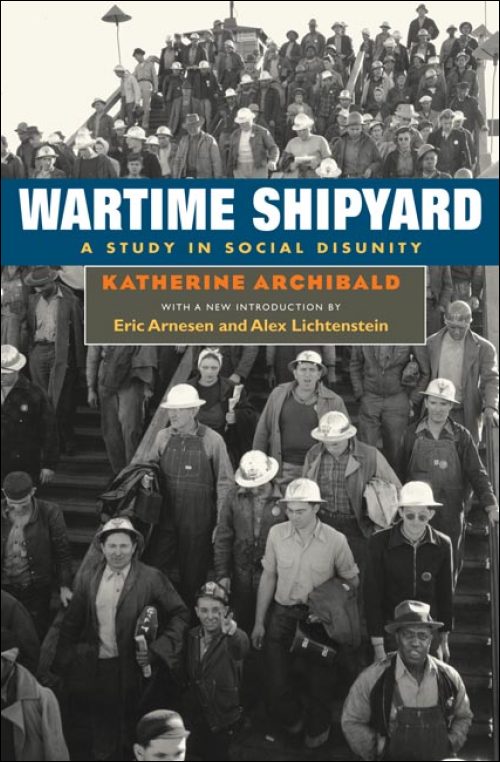 Wartime Shipyard
A Study in Social Disunity
With an Introduction by Eric Arnesen and Alex Lichtenstein
An eye-opening first-hand account of life in a WWII shipyard from a woman's perspective
Paper – $31
978-0-252-07386-1
Publication Date
Paperback: 10/23/2006
About the Book
In 1942, Katherine Archibald, a graduate student at Berkeley, left the halls of academe to spend two years working in a nearby Oakland shipyard. She arrived with a host of preconceptions about the American working class, race relations and the prospect for their improvement, and wartime unity. Her experience working in a shipyard where women were seen as intruders, where "Okies" and black migrants from the South were regarded with barely disguised hatred and where trade unions preferred protecting their turf to defending workers' rights, threw much of her liberal faith into doubt.
Archibald's 1947 book about her experiences remains a classic account of life and labor on the home front. This new edition includes an introduction written by historians Eric Arnesen and Alex Lichtenstein, who explore Archibald's work in light of recent scholarship on women and African Americans in the wartime workplace.
About the Author
Katherine Archibald taught at Stanford University, Pomona College, and the University of Manitoba. Eric Arnesen is a professor of history and African-American studies at the University of Illinois at Chicago. He is the author of Brotherhoods of Color: Black Railroad Workers and the Struggle for Equality and other books. Alex Lichtenstein is an associate professor of history at Rice University and the author of Twice the Work of Free Labor: The Political Economy of Convict Labor in the New South.
Reviews
"Arnesen and Lichtenstein have revived a treasure. Katherin Archibald's book, originally published in 1947, is an engaging ethnographic account of wartime shipyards that acted as a test case for integration of the workforce on the basis of race and sex. . . . Wartime Shipyards would make an excellent text for any course covering the Second World War era. Students will certainly find Archibald's vivid examples and her sharp analysis entertaining and surprising."--Labor History

"Wartime Shipyard is a disturbing book, a fearsome book. It lays bare with harrowing accuracy, in individual detail, the crude cargo of contempt and scorn, arrogance and inertia and fear, which our culture and economic organization impose on the individual and which our schools and churches hardly touch."--Annals of the Academy of Political and Social Science

"More than simply an academic study, the work is observational . . . providing students firsthand insight into the complex working dynamics of the shipyard. . . . Wartime Shipyard is an engaging read and provides a unique insight into shipyard dynamics during World War II."--Left History

"A valuable addition to the library of those who want to better understand the internal stresses within America's home front and within society, in general, during one of the most critical periods in U.S. history. It is an insightful and candid look at racial and gender relations in one of America's most storied historical chapters."--H-Maritime
---