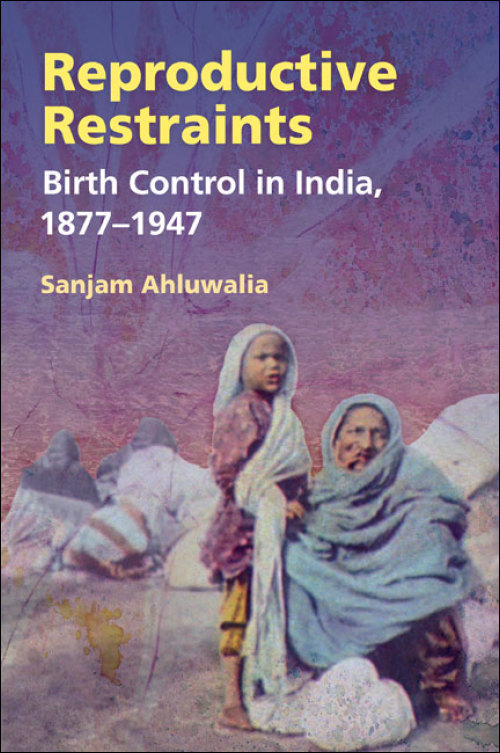 Reproductive Restraints
Birth Control in India, 1877-1947
An investigation of elitist initiatives to limit population growth in India
Cloth – $110
978-0-252-03240-0
Paper – $28
978-0-252-07480-6
eBook – $19.95
978-0-252-09038-7
Publication Date
Cloth: 01/07/2008
About the Book
Reproductive Restraints
traces the history of contraception use and population management in colonial India, while illuminating its connection to contemporary debates in India and birth control movements in Great Britain and the United States. Sanjam Ahluwalia draws attention to the history of Indian birth control by including western activists such as Margaret Sanger and Marie Stopes alongside important Indian campaigners. In revealing the elitist politics of middle-class feminists, Indian nationalists, Western activists, colonial authorities, and the medical establishment, Ahluwalia finds that they all sought to rationalize procreation and regulate women while invoking competing notions of freedom, femininity, and family.
Ahluwalia's remarkable interviews with practicing midwives in rural northern India fills a gaping void in the documentary history of birth control and shows that the movement has had little appeal to nonelite groups in India. She argues that elitist birth control efforts failed to account for Indian women's values and needs and have worked to restrict reproductive rights rather than liberate subaltern Indian women since colonial times.
About the Author
Sanjam Ahluwalia is an associate professor of history and women's studies at Northern Arizona University.
Reviews
"An essential source. . . . This book is a solid contribution to the field of discourse analysis."--
American Historical Review
"Ahluwalia's historical instincts are keen. . . . Accessibly written, skillfully organized, and wonderfully researched."--
Journal of Colonialism and Colonial History
"A major breakthrough in feminist studies and also in the studies of subaltern groups in general. . . .
Reproductive Restraints
deserves serious recognition for presenting the voices from below, and providing a scathing critique of the western, imperialist, racist, elitist, feminist, liberal, nationalist and Subalternist projects from above."--
Environment and History
"Represents a major breakthrough not only in feminist studies but also in the studies of subaltern groups in general."--
Technology and Culture
"A comprehensive historical study. . . . Will certainly be very useful for any student or scholar of contemporary India."
Moussons
---
Blurbs
"Reproductive Restraints is the first comprehensive history of the birth control movement in India to treat the subject in all its medical, political, and cultural dimensions. A rigorous and persuasive feminist analysis, it emphasizes women's experience, the operation of class and ethnicity, and the active work of gender in creating the various terrains in which birth control functioned as both a metaphor for India's 'problems' and a very material social and political question. Students of Indian women, birth control, and British India will find Ahluwalia's book indispensable; feminist and postcolonial theorists will rejoice in its usefulness for their own work."--Antoinette Burton, author of Dwelling in the Archive: Women Writing House, Home, and History in Late Colonial India
---