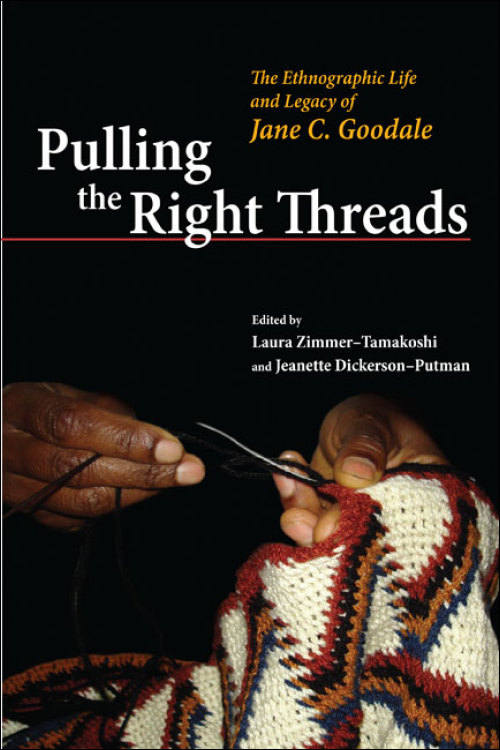 Pulling the Right Threads
The Ethnographic Life and Legacy of Jane C. Goodale
Crucial insights into effective ethnographic research
Paper – $35
978-0-252-07484-4
Publication Date
Paperback: 01/01/2008
Cloth: 03/10/2008
About the Book
A tribute to Jane C. Goodale, Pulling the Right Threads discusses the vibrant ethnographer and teacher's principles for mentoring, collaborating, and performing fieldwork. Known for her ethnographic research in the Pacific, development of the Association of Social Anthropology in Oceania, and influence in the anthropology department at Bryn Mawr College, Goodale and other contributors renew the debate in anthropology over the authenticity of field data and representations of other cultures. Together, they take aim at those who claim ethnography is outmoded or false.
About the Author
Laura Zimmer-Tamakoshi is a research associate in anthropology and cofounder of the Owl Network at Bryn Mawr College. Jeanette Dickerson-Putman is an associate professor in the department of anthropology at Indiana University-Purdue University, Indianapolis.
Reviews
"A celebration (and defence) of ethnography as the essence of anthropology. . . . This volume certainly speaks to a monumental 'legacy.'"--
Anthropological Forum
---
Blurbs
"Debate in anthropology over the role of ethnographic research and writing has been fierce over the past two decades, calling into question the legitimacy of anthropological reportage and its representation of exotic (and not so exotic) societies. This collection, by examining the life work of an outstanding contemporary ethnographer and the legacy that she has created through the work of those she has trained, renews this lively debate. The contributors are unanimous in their commitment to the ethnographic enterprise and clear in their confrontation with those who decry it. This book will stir the best kind of anthropological argument, and that is in and of itself a significant contribution."--David Counts, professor emeritus, Department of Anthropology, McMaster University, and adjunct professor of anthropology, University of British Columbia, Okanagan.
---