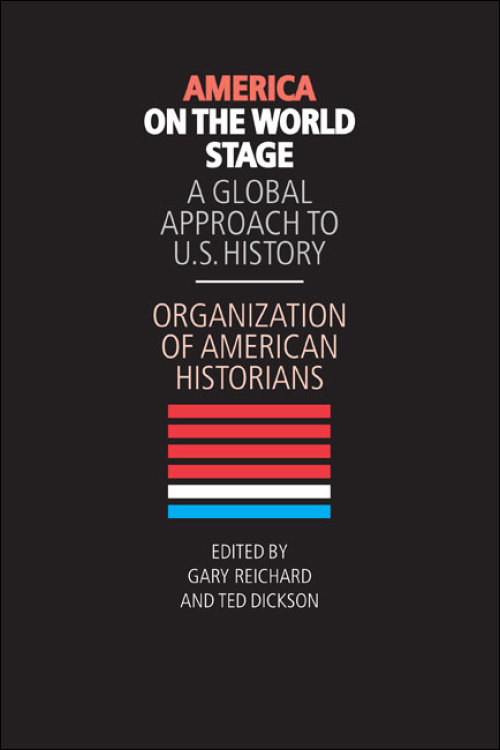 America on the World Stage
A Global Approach to U.S. History
Edited by Gary W. Reichard and Ted Dickson
A fresh perspective on United States history, emphasizing a global context
Cloth – $125
978-0-252-03345-2
Paper – $28
978-0-252-07552-0
Publication Date
Paperback: 01/01/2008
Cloth: 04/21/2008
About the Book
Recognizing the urgent need for students to understand the emergence of the United States' power and prestige in relation to world events, Gary W. Reichard and Ted Dickson reframe the teaching of American history in a global context. Each essay covers a specific chronological period and approaches fundamental topics and events in United States history from an international perspective, emphasizing how the development of the United States has always depended on its transactions with other nations for commodities, cultural values, and populations. For each historical period, the authors also provide practical guidance on bringing this international approach to the classroom, with suggested lesson plans and activities. Ranging from the colonial period to the civil rights era and everywhere in between, this collection will help prepare Americans for success in an era of global competition and collaboration.
Contributors are David Armitage, Stephen Aron, Edward L. Ayers, Thomas Bender, Stuart M. Blumin, J. D. Bowers, Orville Vernon Burton, Lawrence Charap, Jonathan Chu, Kathleen Dalton, Betty A. Dessants, Ted Dickson, Kevin Gaines, Fred Jordan, Melvyn P. Leffler, Louisa Bond Moffitt, Philip D. Morgan, Mark A. Noll, Gary W. Reichard, Daniel T. Rodgers, Leila J. Rupp, Brenda Santos, Gloria Sesso, Carole Shammas, Suzanne M. Sinke, Omar Valerio-Jimenez, Penny M. Von Eschen, Patrick Wolfe, and Pingchao Zhu.
About the Author
Gary W. Reichard is the executive vice chancellor and chief academic officer at The California State University and the author of Politics as Usual: The Age of Truman and Eisenhower. Ted Dickson is chair of the history department at Providence Day School in Charlotte, North Carolina.
Reviews
"The teaching strategies that accompany the essays offer a wide variety of methods to integrate the theme of globalization into survey courses. . . . Historians will find clear and detailed information on where to locate the teaching materials and how to apply any of the pedagogical techniques."--
Teaching History
---
Blurbs
"As a longtime teacher of U.S. history, I'm thrilled to see a single text that so elegantly introduces students to a vital global perspective without sacrificing the distinctiveness of the American experience. The essays cover a wealth of social, economic, cultural, and political subjects, from the growing consumerism of the early Atlantic world to the globalization of popular culture and the internationalization of the civil rights movement. Even better, this remarkable book provides new teaching strategies for connecting U.S. history to the world stage. I can't wait to try out this book on the diverse student body here at the University of Texas."--David Oshinsky, author of Polio: An American Story, winner of the 2006 Pulitzer Prize for History

"This fine book is a source of encouragement as well as enlightenment. Some of the foremost historians in the country have teamed up with a talented group of secondary school educators to consider international perspectives on some of the key issues in American history. It is one of the most imaginative efforts I have seen recently to bridge the gap between academic research and high school instruction. Bravo to all concerned!"--Sean Wilentz, Princeton University
---