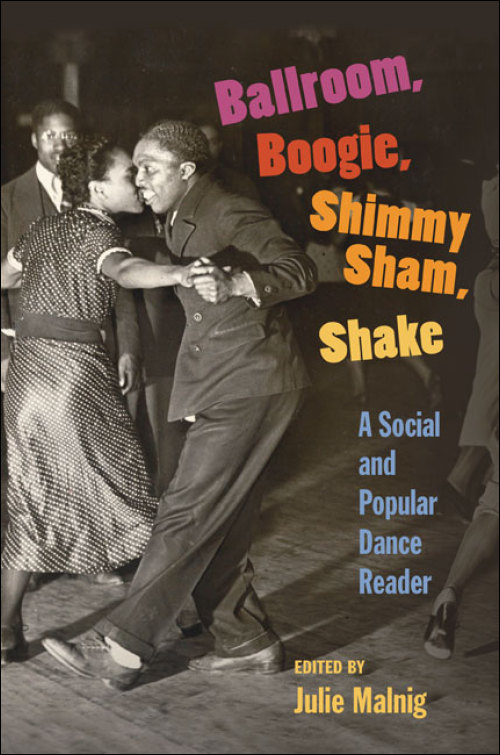 Ballroom, Boogie, Shimmy Sham, Shake
A Social and Popular Dance Reader
Examining social and popular dance forms from a variety of critical and cultural perspectives
Cloth – $125
978-0-252-03363-6
Paper – $28
978-0-252-07565-0
eBook – $19.95
978-0-252-05514-0
Publication Date
Paperback: 01/01/2008
Cloth: 01/01/2008
About the Book
This dynamic collection documents the rich and varied history of social dance and the multiple styles it has generated, while drawing on some of the most current forms of critical and theoretical inquiry. The essays cover different historical periods and styles; encompass regional influences from North and South America, Britain, Europe, and Africa; and emphasize a variety of methodological approaches, including ethnography, anthropology, gender studies, and critical race theory. While social dance is defined primarily as dance performed by the public in ballrooms, clubs, dance halls, and other meeting spots, contributors also examine social dance's symbiotic relationship with popular, theatrical stage dance forms.
Contributors are Elizabeth Aldrich, Barbara Cohen-Stratyner, Yvonne Daniel, Sherril Dodds, Lisa Doolittle, David F. García, Nadine George-Graves, Jurretta Jordan Heckscher, Constance Valis Hill, Karen W. Hubbard, Tim Lawrence, Julie Malnig, Carol Martin, Juliet McMains, Terry Monaghan, Halifu Osumare, Sally R. Sommer, May Gwin Waggoner, Tim Wall, and Christina Zanfagna.
About the Author
Julie Malnig is an associate professor at the Gallatin School of Individualized Study at New York University and the author of Dancing Till Dawn: A Century of Exhibition Ballroom Dance.
Reviews
"This well-researched and balanced classroom tool looks inside genres like ragtime, dance marathons and krumping, and its iconic photographs will help readers further understand each style."--
Dance Teacher
"Malnig makes a significant contribution to the field of dance studies with this impressive, long-overdue investigation into the rich world of vernacular dance traditions. . . . Highly recommended."--
Choice
"This extraordinary collection of essays brings to the forefront the transformative power of social and popular dance as well as its profound impact in shaping American culture and history over the past two centuries."--
Dance Chronicle
"Contributors to this important new collection offer scholarship that helps us to hear, feel, and imagine that transformation through the ongoing story of American social and popular dance practices."--
Dance Research Journal
---
Blurbs
"An incredibly needed volume for undergraduate and graduate students, teachers, and advisors in the field of dance. These essays afford compelling glimpses into communities dancing in particular places and times; the authors provide nuanced understandings of dancing as a means of forming identity and community."--Ann Dils, coeditor of Moving History/Dancing Cultures: A Dance History Reader

"This invaluable volume covers an impressive range of genres, illuminating the liveliness and diversity of social dance. The book makes a unique contribution at a time when the field of dance studies is expanding to include forms other than Euro-American concert dance. An excellent book and a godsend for classroom use."--Tricia Henry Young, director of the graduate program in American dance studies, Florida State University
---