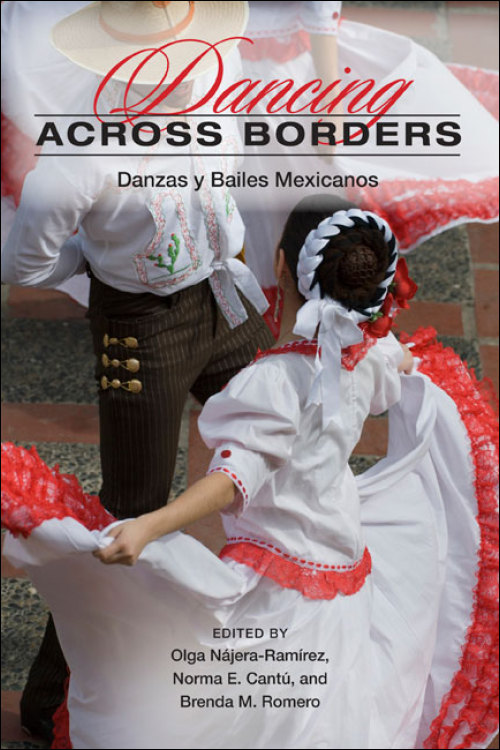 Dancing across Borders
Danzas y Bailes Mexicanos
One of the first anthologies to focus on Mexican dance practices on both sides of the border
Cloth – $125
978-0-252-03409-1
Paper – $33
978-0-252-07609-1
Publication Date
Paperback: 01/01/2009
Cloth: 06/22/2009
About the Book
Dancing across Borders: Danzas y Bailes Mexicanos
focuses specifically on Mexican dance practices on both sides of the U.S.-Mexico border. The essays explore various types of Mexican popular and traditional dances and address questions of authenticity, aesthetics, identity, interpretation, and research methodologies in dance performance. Contributors include not only noted scholars from a variety of disciplines but also several dance practitioners who reflect on their engagement with dance and reveal subtexts of dance culture. Capturing dance as a living expression, the volume's ethnographic approach highlights the importance of the cultural and social contexts in which dances are practiced.
Contributors are Norma E. Cantú, Susan Cashion, María Teresa Ceseña, Xochitl C. Chávez, Adriana Cruz-Manjarrez, Renée de la Torre Castellanos, Peter J. García, Rudy F. García, Chris Goertzen, Martha González, Elisa Diana Huerta, Sydney Hutchinson, Marie "Keta" Miranda, Olga Nájera-Ramírez, Shakina Nayfack, Russell Rodríguez, Brenda M. Romero, Nancy Lee Chalfa Ruyter, José Sánchez Jiménez, and Alberto Zárate Rosales.
About the Author
Olga Nájera-Ramírez is a professor of anthropology at the University of California, Santa Cruz. Norma E. Cantú is a professor of English at the University of Texas, San Antonio. Brenda M. Romero is an associate professor of ethnomusicology at the University of Colorado, Boulder.
Reviews
---
Blurbs
"This stimulating collection expands our understanding of Mexican dance's significance by employing dance as a prism through which to view broader sociocultural issues and meaning. It sets a new standard for anthropological dance studies far beyond its U.S.-Mexico focus."--Daniel Sheehy, author of Mariachi Music in America: Experiencing Music, Expressing Culture
---