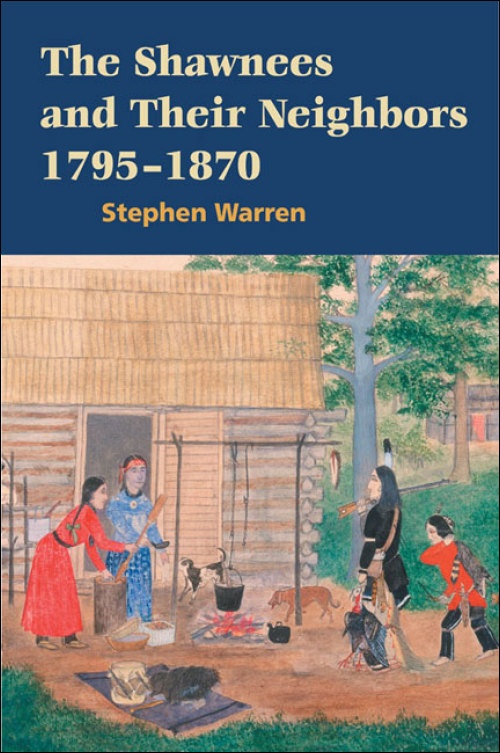 The Shawnees and Their Neighbors, 1795-1870
Looking past the rhetoric to expose the forces that shaped Shawnee nationalism
Paper – $23
978-0-252-07645-9
Publication Date
Paperback: 01/12/2009
About the Book
Stephen Warren traces the transformation in Shawnee sociopolitical organization over seventy years as it changed from village-centric, multi-tribe kin groups to an institutionalized national government led by wealthy men with only marginal kin ties to the people they claimed to represent.
The Shawnees and Their Neighbors, 1795-1870
lays bare the myths and histories produced by Shawnee interpreters and their vested interests in modernizing the tribes.
Until recently, historians have assumed that Central Algonquians derive from politically unified tribes, but by analyzing the crucial role that individuals, institutions, and policies played in shaping modern tribal governments, Warren reveals a messier, more complicated history of migration and conflict. Ultimately, Warren establishes that the form of the modern Shawnee "tribe" was coerced in accordance with the U.S. government's desire for an entity with whom to do business, rather than as a natural development of traditional Shawnee ways.
About the Author
Stephen Warren is an associate professor of history at Augustana College in Rock Island, Illinois.
Reviews
"The variety and depth of the author's research is impressive. . . . The book shows the enormous complexity of nineteenth century tribal identity, the shifting basis of leadership, and how some leaders harmed their people while helping themselves."--Journal of American History

"With his first work, Warren has produced a masterpiece, and the history world should take notice. . . . Warren digs every possible detail out of an archive, impressively reinterprets existing literature, and offers a highly engaging and beautifully written narrative."--Western Historical Quarterly

"Drawing on solid primary and secondary sources as well as his own knowledge of the Shawnees, Warren has constructed an in-depth, complex account of the changes brought to Shawnee life from 1795 to 1870."--Ohio History

"This book is an important and insightful contribution to recent scholarship on changes and continuities in American Indian identities. . . . By showing how Shawnees became the peoples they are today, Warren reminds us that, however much some natives and some newcomers have believed in a unified Indian identity, history has never been on their side."--American Historical Review

"Warren fills in important gaps in our knowledge of diverse groups of Shawnees as he traces their history. . . . Warren's study reveals the complexity of Indian identity. . . . [It] raise[s] important questions and answer[s] them in detail with new discoveries and insights."--Canadian Journal of History

"Cogently written and well researched, this book focuses on the variety of Indian responses and their consequences during the relocation era, making it an especially important contribution. Highly recommended."--Choice
---