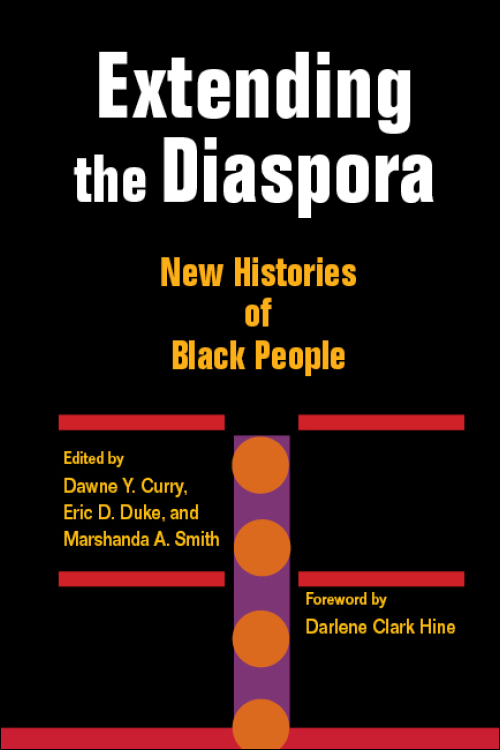 Extending the Diaspora
New Histories of Black People
Foreword by Darlene Clark Hine
Exciting perspectives on the black diaspora's global histories
Paper – $32
978-0-252-07652-7
Publication Date
Paperback: 01/01/2009
Cloth: 08/24/2009
About the Book
This groundbreaking collection addresses both new and familiar topics with fresh perspectives to produce original and thought-provoking scholarship on the diasporic histories of black people. Through a variety of methodologies and theoretical constructs, the contributors plumb a wide range of localities to engage many important subjects, including slavery and emancipation, transnational and diasporic experiences, social and political activism, and political and cultural identity. In doing so, they offer insightful and thought provoking studies, highlight new areas of inquiry in the African diaspora, and in many cases transcend geographical and national boundaries. The probing and meticulously woven narratives of this collection combine to show the vibrant histories of people of African descent.
Contributors: Iris Berger, John Campbell, Afua Cooper, Dawne Y. Curry, Eric D. Duke, Fatima El-Tayeb, Stephen G. Hall, Joel T. Helfrich, Beatriz G. Mamigonian, Yuichiro Onishi, Cassandra Pybus, Micol Seigel, Marshanda A. Smith, and Matthew J. Smith.
About the Author
Dawne Y. Curry is an assistant professor of history and ethnic studies at the University of Nebraska. Eric D. Duke is an assistant professor of Africana studies at the University of South Florida. Marshanda A. Smith is a Ph.D. candidate in comparative black history at Michigan State University.
Reviews
"A fascinating collection and a must read for teachers of African American Diaspora, literature, culture, and/or history."--
Multicultural Review
---
Blurbs
"Extending the Diaspora offers new voices, new insights, and new fields of inquiry to diaspora studies. The depth and originality of the research is breathtaking, and the accompanying analyses are equally stunning."--Michelle M. Wright, author of Becoming Black: Creating Identity in the African Diaspora

"These essays effectively define (or redefine) the black diaspora and Atlantic world studies. In this volume, we are witnessing the exciting birth of the next generation of diaspora studies scholarship."--Thomas C. Holt, author of The Problem of Race in the Twenty-first Century
---