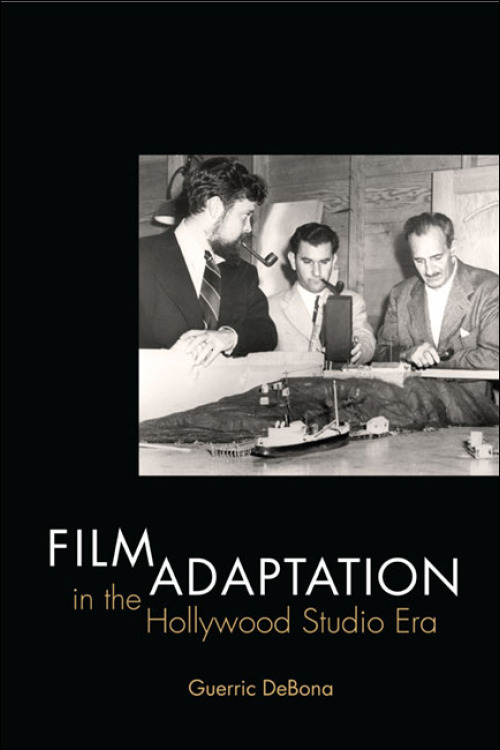 Film Adaptation in the Hollywood Studio Era
From the literary page to the silver screen--a historical and cultural approach
Cloth – $110
978-0-252-03541-8
Paper – $27
978-0-252-07737-1
Publication Date
Paperback: 01/01/2010
Cloth: 06/07/2010
About the Book
In this exceptional contribution to literary adaptation studies, Guerric DeBona shifts the focus away from determining a film's allegiance to the original source and redirects the conversation to the industrial choices, audience responses, and socio-cultural factors that contribute to the construction of the cinematic text.
Film Adaptation in the Hollywood Studio Era analyzes the intertextuality, cultural value, and authorship of four films from the 1920s to the 1950s based on canonical British and American novels. This unique methodological alternative to formalist "fidelity" approaches to literary adaptations blends archival research with DeBona's own deft and culturally rich interpretations of David Copperfield (1935), Heart of Darkness (1939), The Long Voyage Home (1940), and The Red Badge of Courage (1951).
Emphasizing the historical and cultural contexts as well as political and economic filmmaking decisions, DeBona reveals how high-minded source material from literary luminaries Charles Dickens, Joseph Conrad, Eugene O'Neill, and Stephen Crane did not necessarily translate to prestigious or credible films during the studio era. He also considers how such films led to a new set of industry standards and audience expectations in film after World War II. Through this hermeneutic and historical approach, DeBona argues that the films are examples of what French film critic André Bazin termed "mixed cinema," and not solely the transformation of one work of art to another medium.
Building on the work of mid-twentieth-century French auteurs from Cahiers du Cinéma and incorporating contemporary film criticism, DeBona presents a fully realized methodological alternative to the formalist approach of "fidelity critics" and conclusively demonstrates the importance of historical context to adaptation studies.
About the Author
Guerric DeBona, O.S.B, is a professor of homiletics and communication at Saint Meinrad Seminary and School of Theology in St. Meinrad, Indiana. He is the coauthor of Savior on the Silver Screen.
Reviews
"Recommended."--
Choice
---
Blurbs
"Guerric DeBona's new book makes a powerful case that film adaptations are shaped as much by contextual forces as by their literary forbears. Once it is as widely read as it deserves to be, adaptation studies will never be the same."--Thomas Leitch, author of Film Adaptation and Its Discontents: From Gone with the Wind to The Passion of the Christ
---