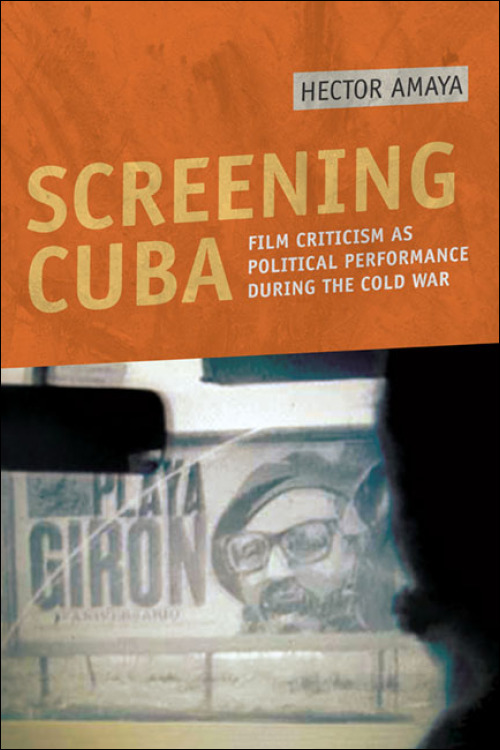 Screening Cuba
Film Criticism as Political Performance during the Cold War
A sophisticated comparison of U.S. and Cuban reactions to Cuban revolutionary films
Cloth – $110
978-0-252-03559-3
Paper – $32
978-0-252-07748-7
eBook – $19.95
978-0-252-09002-8
Publication Date
Paperback: 10/04/2010
Cloth: 10/04/2010
About the Book
Hector Amaya advances into new territory in Latin American and U.S. cinema studies in this innovative analysis of the differing critical receptions of Cuban film in Cuba and the United States during the Cold War. Synthesizing film reviews, magazine articles, and other primary documents,
Screening Cuba
compares Cuban and U.S. reactions to four Cuban films:
Memories of Underdevelopment, Lucia, One Way or Another,
and
Portrait of Teresa.
In examining cultural production through the lens of the Cold War, Amaya reveals how contrasting interpretations by Cuban and U.S. critics are the result of the political cultures in which they operated. While Cuban critics viewed the films as powerful symbols of the social promises of the Cuban revolution, liberal and leftist American critics found meaning in the films as representations of anti-establishment progressive values and Cold War discourses. By contrasting the hermeneutics of Cuban and U.S. culture, criticism, and citizenship, Amaya argues that critical receptions of political films constitute a kind of civic public behavior.
About the Author
Hector Amaya is an assistant professor of media studies at the University of Virginia.
Reviews
"[A] clearly organized, well-written comparative study. . . . Recommended."--
Choice
---
Blurbs
"Truly groundbreaking. Amaya's provocative and illuminating analysis uses a Cuba-U.S. framework to address film criticism as a way of exercising political citizenship, providing a glimpse into the cultural and political effects of the Cold War."--Ana Lopez, coeditor of The Ethnic Eye: Latino Media Arts

"Screening Cuba joins a new generation of writings about Cuban culture and cultural politics. An original contribution to cinema reception studies."--Michael Chanan, author of Cuban Cinema
---