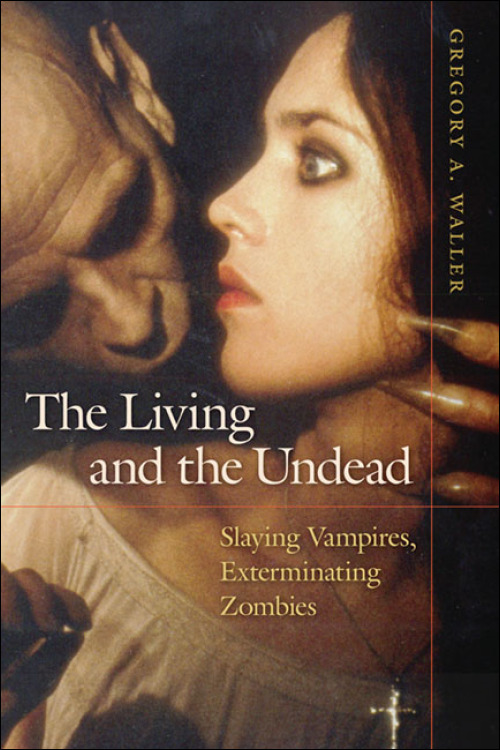 The Living and the Undead
Slaying Vampires, Exterminating Zombies
A cunning investigation of the monstrous in classic and modern horror
Paper – $27
978-0-252-07772-2
eBook – $19.95
978-0-252-09033-2
Publication Date
Paperback: 08/30/2010
About the Book
With a legacy stretching back into legend and folklore, the vampire in all its guises haunts the film and fiction of the twentieth century and remains the most enduring of all the monstrous threats that roam the landscapes of horror. In
The Living and the Undead,
Gregory A. Waller shows why this creature continues to fascinate us and why every generation reshapes the story of the violent confrontation between the living and the undead to fit new times.
Examining a broad range of novels, stories, plays, films, and made-for-television movies, Waller focuses upon a series of interrelated texts: Bram Stoker's Dracula (1897); several film adaptations of Stoker's novel; F. W. Murnau's Nosferatu, A Symphony of Horror (1922); Richard Matheson's I Am Legend (1954); Stephen King's 'Salem's Lot (1975); Werner Herzog's Nosferatu the Vampyre (1979); and George Romero's Night of the Living Dead (1968) and Dawn of the Dead (1979). All of these works, Waller argues, speak to our understanding and fear of evil and chaos, of desire and egotism, of slavish dependence and masterful control. This paperback edition of The Living and the Undead features a new preface in which Waller positions his analysis in relation to the explosion of vampire and zombie films, fiction, and criticism in the past twenty-five years.
Reviews
"Fascinating studies of nineteenth- and especially twentieth-century horror narratives. . . . A book which frequently displays great subtlety and insight."--Library Journal

"Highly recommended as a source book for those interested in the horror genre. In addition, Waller's book provides a critical abundance of empirical data for any scholar concerned with genre studies, history, adaptation, narrativity, and intertextuality."--Wide Angle

"A fascinating account of the changing trends in vampire fiction. . . . People truly interested in horror literature and films will find Waller's book invaluable."--West Coast Review of Books

"This is a book for those who want a fruitful method to approach the analysis of monster narratives."--Journal of the Fantastic in the Arts
---