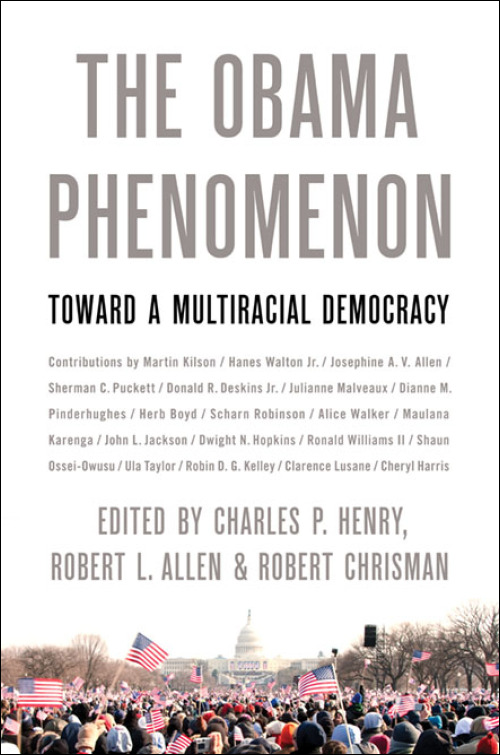 The Obama Phenomenon
Toward a Multiracial Democracy
Perspectives on the Obama campaign and early administration
Cloth – $125
978-0-252-03645-3
Paper – $27
978-0-252-07822-4
eBook – $19.95
978-0-252-09348-7
Publication Date
Paperback: 10/31/2011
Cloth: 10/31/2011
About the Book
Barack Obama's campaign and electoral victory demonstrated the dynamic nature of American democracy. Beginning as a special issue of
The Black Scholar,
this probing collection illustrates the impact of "the Obama phenomenon" on the future of U.S. race relations through readings on Barack Obama's campaign as well as the idealism and pragmatism of the Obama administration. Some of the foremost scholars of African American politics and culture from an array of disciplines--including political science, theology, economics, history, journalism, sociology, cultural studies, and law--offer critical analyses of topics as diverse as Obama and the media, Obama's connection with the hip hop community, the public's perception of first lady Michelle Obama, voter behavior, and the history of racial issues in presidential campaigns since the 1960s.
Contributors are Josephine A. V. Allen, Robert L. Allen, Herb Boyd, Donald R. Deskins Jr., Cheryl I. Harris, Charles P. Henry, Dwight N. Hopkins, John L. Jackson, Maulana Karenga, Robin D. G. Kelley, Martin Kilson, Clarence Lusane, Julianne Malveaux, Shaun Ossei-Owusu, Dianne M. Pinderhughes, Sherman C. Puckett, Scharn Robinson, Ula Y. Taylor, Alice Walker, Hanes Walton Jr., and Ronald Williams II.
About the Author
Charles P. Henry is the H. Michael and Jeanne Williams Chair of African American Studies at the University of California, Berkeley, and author of Long Overdue: The Politics of Racial Reparations. Robert L. Allen is an adjunct professor of African American studies and ethnic studies at the University of California, Berkeley, and author of Black Awakening in Capitalist America: An Analytic History. Robert Chrisman is the editor-in-chief and publisher of The Black Scholar.
Reviews
"Outstanding."--
Choice
---
Blurbs
"These eminent scholars of African American politics provide rich, multigenerational perspectives on the Obama election and the first year of his presidency. A significant and distinctive contribution to the emerging scholarship on Obama that will be useful in African American studies and political science courses."--Robert C. Smith, coauthor of American Politics and the African American Quest for Universal Freedom
---