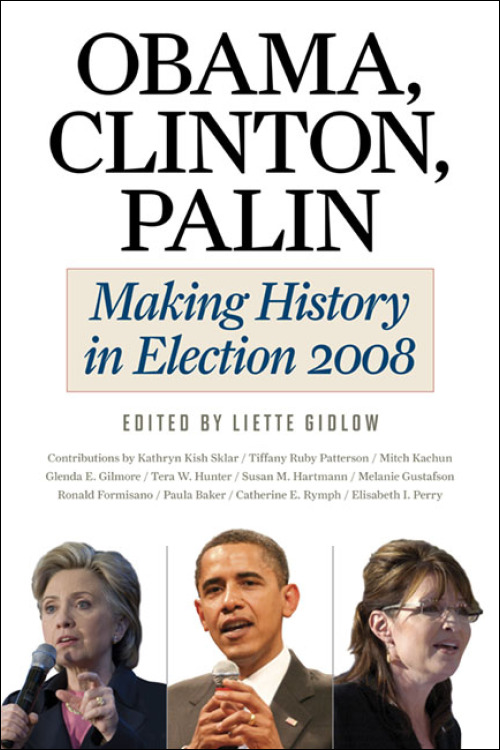 Obama, Clinton, Palin
Making History in Election 2008
Taking the long view on a groundbreaking election
Cloth – $110
978-0-252-03660-6
Paper – $27
978-0-252-07830-9
eBook – $19.95
978-0-252-09365-4
Publication Date
Paperback: 01/26/2012
Cloth: 01/26/2012
About the Book
Election 2008 made American history, but it was also the product of American history. Barack Obama, Hillary Clinton, and Sarah Palin smashed through some of the most enduring barriers to high political office, but their exceptional candidacies did not come out of nowhere. In these timely and accessible essays, a distinguished group of historians explores how the candidates both challenged and reinforced historic stereotypes of race and sex while echoing familiar themes in American politics and exploiting new digital technologies.
Contributors include Kathryn Kish Sklar on Clinton's gender masquerade; Tiffany Ruby Patterson on the politics of black anger; Mitch Kachun on Michelle Obama and stereotypes about black women's bodies; Glenda E. Gilmore on black women's century of effort to expand political opportunities for African Americans; Tera W. Hunter on the lost legacy of Shirley Chisholm; Susan M. Hartmann on why the U.S. has not yet followed western democracies in electing a female head of state; Melanie Gustafson on Palin and the political traditions of the American West; Ronald Formisano on the populist resurgence in 2008; Paula Baker on how digital technologies threaten the secret ballot; Catherine E. Rymph on Palin's distinctive brand of political feminism; and Elisabeth I. Perry on the new look of American leadership.
About the Author
Liette Gidlow is an associate professor of history at Wayne State University and the author of The Big Vote: Gender, Consumer Culture, and the Politics of Exclusion, 1890s-1920s.
Reviews
"Time will tell whether the presidential campaign of 2008 constituted what political scientists call a critical election in U.S. history, but there is no question that it changed the game for women and African Americans in politics. . . . Recommended."--
Choice
"Gathering first-rate scholars, Gidlow's effort offers a raw perspective of a moment in time when the progressive efforts of generations erupted finally—and all at once—on the national stage."--
The Journal of American History
"These essays make a compelling case that the groundbreaking 2008 election was simply one chapter in a long and complicated history of race and gender politics in the United States."--
The Journal of Southern History
---
Blurbs
"This readable collection brings together a distinguished group of scholars to offer reflections that place the galvanizing candidacies of Barack Obama, Hillary Clinton, and Sarah Palin in historical perspective."--Eileen Boris, coeditor of Intimate Labors: Cultures, Technologies, and the Politics of Care

"These stimulating essays draw meaning from the 2008 campaigns of Barack Obama, Hillary Clinton, and Sarah Palin at a critical juncture in U.S. history--a topic worthy of serious reflection and tackled here from a variety of interesting angles."--Louise Newman, author of White Women's Rights: Racial Origins of Feminism in the United States
---