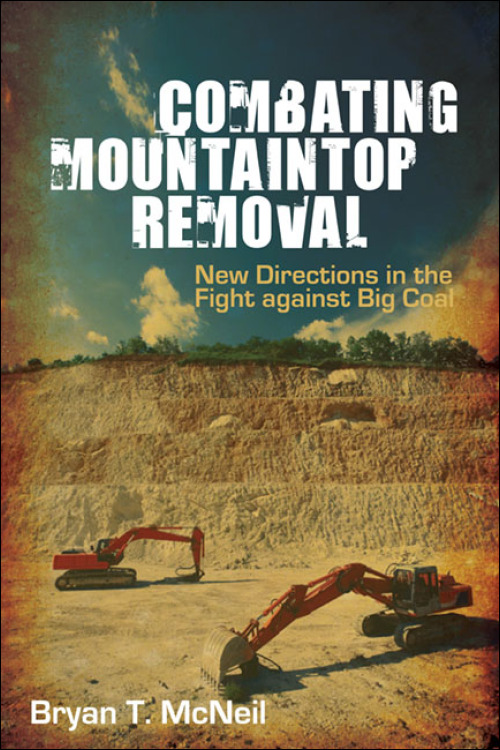 Combating Mountaintop Removal
New Directions in the Fight against Big Coal
Grassroots environmental activism in West Virginia coal country
Paper – $26
978-0-252-07897-2
eBook – $19.95
978-0-252-09346-3
Publication Date
Paperback: 01/01/2013
About the Book
Drawing on powerful personal testimonies of the hazards of mountaintop removal in southern West Virginia,
Combating Mountaintop Removal
critically examines the fierce conflicts over this violent and increasingly prevalent form of strip mining. Bryan T. McNeil documents the changing relationships among the coal industry, communities, environment, and economy from the perspective of local grassroots activist organizations and their broader networks.
Focusing on Coal River Mountain Watch (CRMW), an organization composed of individuals who have personal ties to the coal industry in the region, the study reveals a turn away from once-strong traditional labor unions and the emergence of community-based activist organizations. By framing social and moral arguments in terms of the environment, these innovative hybrid movements take advantage of environmentalism's higher profile in contemporary politics. In investigating the local effects of globalization and global economics, McNeil tracks the profound reimagining of social and personal ideas such as identity, history, and landscape and considers their roles in organizing an agenda for progressive community activism.
About the Author
Bryan T. McNeil is an assistant professor of anthropology at American University.
Reviews
"A book for all concerned readers who want to learn what [mountaintop removal] means to the people it most impacts."--
Library Journal
"An excellent job of putting an extremely complex set of issues and questions into perspective. . . . A very useful and informative account of coalfield activism."--
The Register of the Kentucky Historical Society
"Though many writers have dealt with the struggle against this extreme form of mining, McNeil's book fills a gap in the scholarship. . . . McNeil demonstrates how the contemporary political and economic climate demands new forms of activism to represent community interests."--
Appalachian Journal
"A penetrating ethnographic account of one of Appalachia's most celebrated grassroots environmental organizations."--
Social Forces
---
Blurbs
"This book fills a gap in our understanding of strip mining and its opposition by insightfully connecting mountaintop removal and resistance to neoliberalism. McNeil's detailed discussions of the complex origins of mountaintop removal and the lack of good alternative economic opportunities in Appalachia are a strong basis for readers new to the subject."--Chad Montrie, author of To Save the Land and People: A History of Opposition to Surface Coal Mining in Appalachia
---