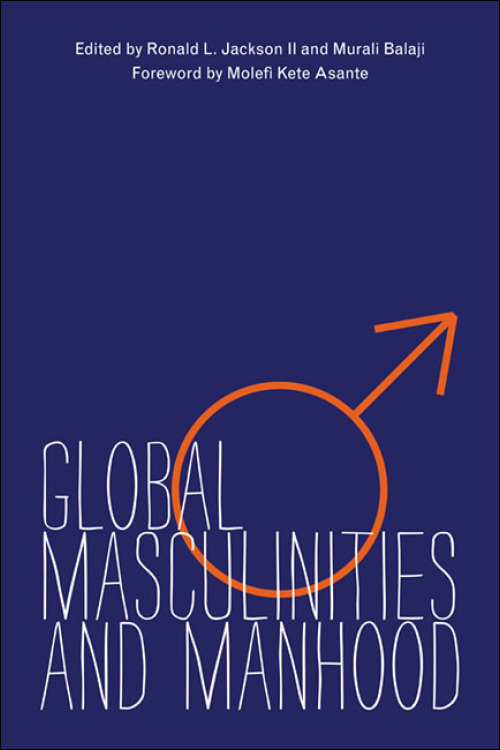 Global Masculinities and Manhood
Foreword by Molefi K. Asante
What makes a man, within his own culture
Cloth – $110
978-0-252-03651-4
Paper – $27
978-0-252-07965-8
eBook – $19.95
978-0-252-09355-5
Publication Date
Paperback: 08/01/2013
About the Book
Bringing together an array of interdisciplinary voices,
Global Masculinities and Manhood
examines the concept of masculinity from the perspectives of cultures around the world. In the era of globalization, masculinity continues to be studied in a Western-centric context. Contributors to this volume, however, deconstruct the history and politics of masculinities within the contexts of the cultures from which they have been developed, examining what makes a man who he is within his own culture. Highlighting manifestations of masculinity in countries including Jamaica, Turkey, Peru, Kenya, Australia, and China, scholars from a variety of disciplines grapple with the complex politics of identity and the question of how gender is interpreted and practiced through discourse. Topics include how masculinity is affected by war and conflict, defined in relation to race, ethnicity, and sexuality, and expressed in cultural activities such as sports or the cinema.
Contributors are Bryant Keith Alexander, Molefi K. Asante, Murali Balaji, Maurice Hall, Ronald L. Jackson II, Shino Konishi, Nil Mutluer, Mich Nyawalo, Kathleen Glenister Roberts, Margarita Saona, and Kath Woodward.
About the Author
Ronald L. Jackson II is the dean of McMicken College of Arts & Sciences at the University of Cincinnati. He is the author of several books, including Scripting the Black Masculine Body: Identity, Discourse, and Racial Politics in Popular Media. Murali Balaji is the director of education and curriculum reform at the Hindu American Foundation in Washington, D.C. He is the author of The Professor and the Pupil: The Politics and Friendship of W. E. B. Du Bois and Paul Robeson.
Reviews
"A fine collection of original essays, each of which illustrates how dominant conceptualizations of masculinity can inform and/or harm the everyday lives of particular populations. . . . Recommended."--
Choice
---
Blurbs
"This stimulating collection provides a succinct and consolidated examination of global cultures of masculinity and the basis for future comparative research and teaching in this area. A solid complement to the existing and growing literature in the field of masculinity studies."--Corey D. B. Walker, author of A Noble Fight: African American Freemasonry and the Struggle for Democracy in America

"This accessible collection interrogates the cultural constructions of masculinity across a wide range of cultures. Focusing on cultures that are typically overlooked in discussions on masculinity, the contributors raise important issues and highlight the many tensions that create and construct masculinities worldwide."--Thomas K. Nakayama, coeditor of The Handbook of Critical Intercultural Communication
---