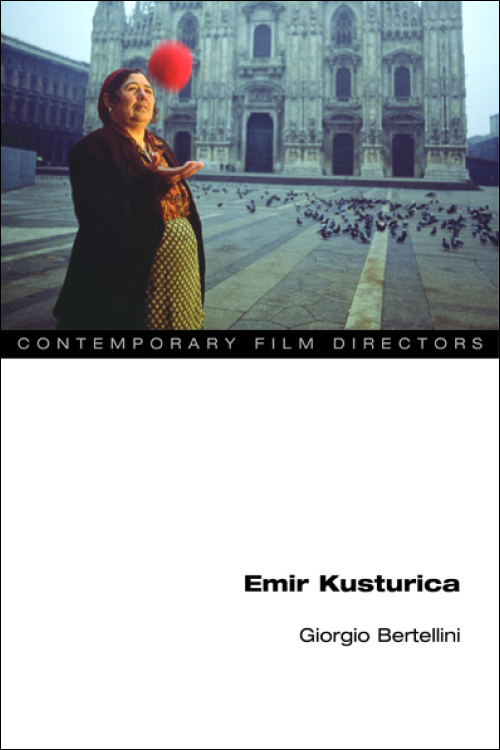 Emir Kusturica
Exploring the individual style and ever-shifting films of the award-winning Balkan auteur
Cloth – $110
978-0-252-03889-1
Paper – $22
978-0-252-08044-9
eBook – $14.95
978-0-252-09685-3
Publication Date
Cloth: 01/05/2015
About the Book
Emir Kusturica is one of Eastern Europe's most celebrated and influential filmmakers. Over the course of a thirty-year career, Kusturica has navigated a series of geopolitical fault lines to produce subversive, playful, often satiric works. On the way he won acclaim and widespread popularity while showing a genius for adjusting his poetic pitch--shifting from romantic realist to controversial satirist to sentimental jester.
Leading scholar-critic Giorgio Bertellini divides Kusturica's career into three stages--dissention, disconnection, and dissonance--to reflect both the historic and cultural changes going on around him and the changes his cinema has undergone. He uses Kusturica's Palme d'Or winning Underground (1995)--the famously inflammatory take on Yugoslav history after World War II--as the pivot between the tone of romantic, yet pungent critique of the director's early works and later journeys into Balkanist farce marked by slapstick and a self-conscious primitivism.
Eschewing the one-sided polemics Kusturica's work often provokes, Bertellini employs balanced discussion and critical analysis to offer a fascinating and up-to-date consideration of a major figure in world cinema.
About the Author
Giorgio Bertellini is an associate professor in the departments of Screen Arts and Cultures, and Romance Languages and Literatures, at the University of Michigan. He is the author of the award-winning Italy in Early American Cinema: Race, Landscape, and the Picturesque.
Reviews
"Enter Giorgio Bertellini with this remarkable study of Kusturica, his films, and their cinematic, cultural, and political implications and dimensions. . . . This is one of those rare film studies books that actively engages those who have seen and appreciated Kusturica's work as well as those just coming to these unusual films for the first time."--
Slavic Review
---
Blurbs
"Bertellini is admirably succinct and evocative in discussing Kusturica's aesthetic management and no less insightful in discussing critical perspectives on the sociocultural, political thematic underpinnings of his major films."--Daniel Goulding, author of Liberated Cinema: The Yugoslav Experience, 1945–2001
---