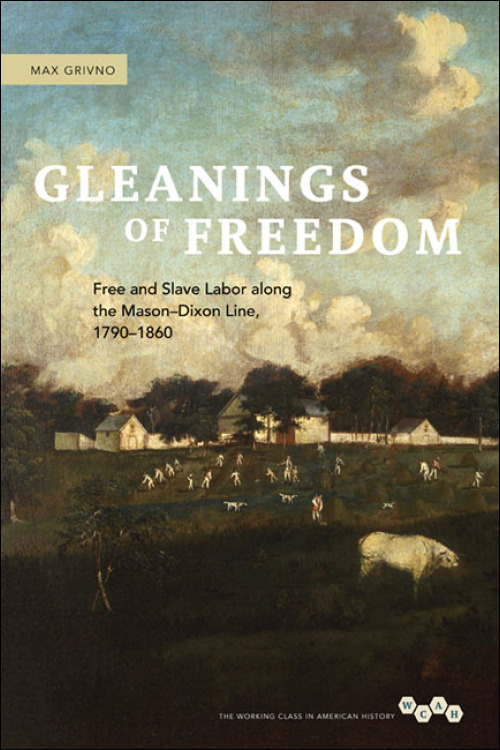 Gleanings of Freedom
Free and Slave Labor along the Mason-Dixon Line, 1790-1860
The transformation of slavery and free labor in the Upper South
Cloth – $110
978-0-252-03652-1
Paper – $28
978-0-252-08047-0
eBook – $19.95
978-0-252-09356-2
Publication Date
Paperback: 11/17/2014
About the Book
In the late eighteenth and early nineteenth centuries, farmers and planters in the hinterlands of Baltimore, Maryland, cobbled together workforces from a diverse labor population of black and white apprentices, indentured servants, slaves, and hired workers. The Upper South during this period presents a unique perspective on how free and slave labor systems coexisted and interacted during a time when slavery and free labor were moving apart both geographically and ideologically.
Gleanings of Freedom
examines the intertwined lives of the poor whites, slaves, and free blacks who lived and worked along the Mason–Dixon Line in the decades preceding the Civil War.
Max Grivno closely examines a handful of counties in northern Maryland and southern Pennsylvania to illustrate how these rural local communities represented issues of national historical significance, including the dynamic, multifaceted relationship between slave and free labor, the lives of free black and white farmhands, the domestic slave trade's impact on the people of the Upper South, and the struggles of enslaved and free blacks to liberate themselves and their families from bondage through immediate and delayed manumissions. Grivno reconstructs the economy of this wheat-producing region to illustrate how the erratic demand for labor shaped negotiations between employers and their workers. Gleanings of Freedom illuminates the ties between the economies of the Upper and Lower South, showing how the insatiable demand for labor on the cotton and sugar plantations of the Deep South drew thousands of slaves southward and drove those who remained on the sectional border to fight for their freedom through shrewd negotiations and violent resistance.
Deftly drawing from court records, the diaries, letters, and ledgers of farmers and small planters, travelers' accounts, and testimonies of slaves and their masters, Gleanings of Freedom reconstructs how these poorest of southerners eked out their livings and struggled to maintain their families and their freedom in the often unforgiving rural economy.
* Publication of this book is supported by the Richard T. Farrell Award, given by the Department of History at the University of Maryland.
About the Author
Max Grivno is an assistant professor of history at the University of Southern Mississippi.
Reviews
"Subtle and remarkably textured history of labor in northern Maryland and southern Pennsylvania."--
Southern Spaces
"A thickly descriptive and nuanced account of the 'evolution of race, class, and labor regimes' in Maryland from just after the American Revolution up to the Civil War."--
Civil War Book Review
"Grivno's carefully documented interpretation of rural life and labor challenges readers to think hard about the meanings of slavery, freedom, and borders in antebellum America."--
The Journal of American History
"Grivno has rescued some folk from oblivion, put some flesh on the statistical bones of history, and shown us just how hard scraping by could be."--
Pennsylvania Magazine of History and Biography
"
Gleanings of Freedom
shines light on an important, underappreciated site in the history of slavery and makes a lasting contribution to the study of American workers and the slave South."--
American Historical Review
"A splendid volume, interestingly written, engaging a broad historiography, and formulating convincing arguments concerning the evolution and racial complexity of the rural labor force."--
The Register of the Kentucky Historical Society
"Max Grivno's engaging and often harrowing narrative of agricultural workers along the northern Maryland border, investigates a place where 'slavery's roots ran shallow,' yet where free landless laborers face severe constraints in a changing market. . . . Grivno's book brilliantly succeeds in analyzing local and regional changes in terms of broader developments, portraying the distinctiveness of an understudied corner of the South."--
The Journal of Southern History
"A persuasive and powerful study of a rural labor system at a tender moment of transition. It should rightly enjoy pride of place alongside some of the best work recently published on slavery in the U.S.A."--
Slavery and Abolition
---
Blurbs
"Gleanings of Freedom tells a story at once wholly underappreciated and immensely important. In unprecedented detail, Max Grivno's impeccably researched study explains how slavery and freedom functioned in such close proximity and for so long. It is--and will remain--indispensable for scholars of slavery, wage labor, and the tangled history of America's antebellum working class."--Mark M. Smith, author of How Race Is Made: Slavery, Segregation, and the Senses

"Grivno's significant study speaks to a number of themes in the recent historiography of slavery and labor: the similarities and differences between slavery and freedom, the important role of the interstate slave trade, and the importance of family and household as a key to workers' means of survival and employers' influence over them. A powerful analysis of these key topics that will shape debate in the field for some time."--Christopher Clark, author of Social Change in America: From the Revolution through the Civil War
---