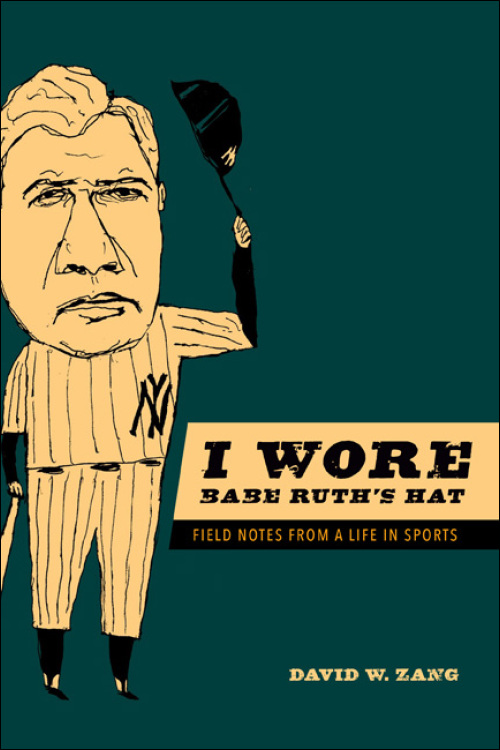 I Wore Babe Ruth's Hat
Field Notes from a Life in Sports
Sports' impact on the life of an ordinary athlete, by one of sports history's most celebrated stylists
Cloth – $110
978-0-252-03937-9
Paper – $18
978-0-252-08088-3
eBook – $19.95
978-0-252-09742-3
Publication Date
Cloth: 06/15/2015
About the Book
David W. Zang played junior high school basketball in a drained swimming pool. He wore a rubber suit to bed to make weight for a wrestling meet. He kept a log as an obsessive runner (
not
a jogger). In short, he soldiered through the life of an ordinary athlete.
Whether pondering his long-unbuilt replica of Connie Mack Stadium or his eye-opening moment as the Baltimore Ravens' mascot, Zang offers tales by turns poignant and hilarious as he engages with the passions that shaped his life. Yet his meditations also probe the tragedy of a modern athletic culture that substitutes hyped spectatorship for participation. As he laments, American society's increasing scorn for taking part in play robs adults of the life-affirming virtues of games that challenge us to accomplish the impossible for the most transcendent of reasons: to see if it can be done.
From teammates named Lop to tracing Joe Paterno's long shadow over Happy Valley, I Wore Babe Ruth's Hat reports from the everyman's Elysium where games and life intersect.
About the Author
David W. Zang is a professor in the Department of Kinesiology at Towson University. He is the author of Fleet Walker's Divided Heart: The Life of Baseball's First Black Major Leaguer and Sports Wars: Athletes in the Age of Aquarius.
Reviews
---
Blurbs
"These essays deliver intelligent analysis, brilliant insights, wit, laugh-out-loud hilarity, and a disarmingly serious look at David Zang's passion for sport and its place in his life and ours."--Richard Crepeau, author of NFL Football: A History of America's New National Pastime

"Funny, poignant, smart, and crisply written, I Wore Babe Ruth's Hat reminds us why we care so much about sports--and why we keep telling its stories."--Aram Goudsouzian, author of King of the Court: Bill Russell and the Basketball Revolution


---