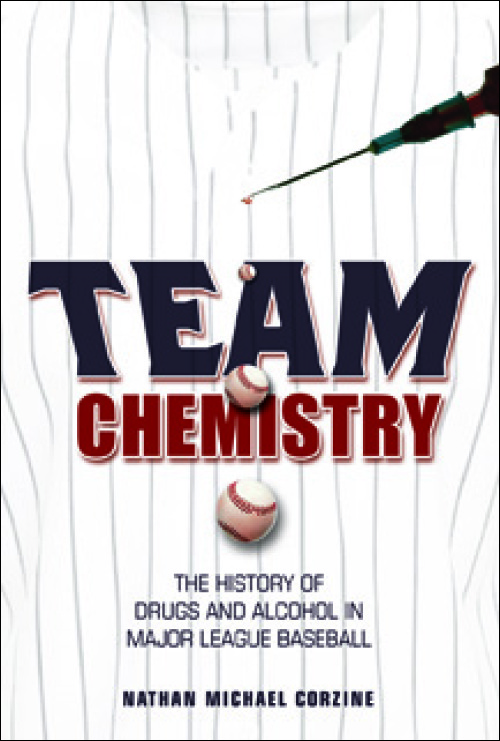 Team Chemistry
The History of Drugs and Alcohol in Major League Baseball
The hard realities of a game as American as red juice, white lines, and Vida Blue
Cloth – $110
978-0-252-03979-9
Paper – $19.95
978-0-252-08133-0
eBook – $14.95
978-0-252-09789-8
Publication Date
Cloth: 02/15/2016
About the Book
In 2007, the Mitchell Report shocked traditionalists who were appalled that drugs had corrupted the "pure" game of baseball. Nathan Corzine rescues the story of baseball's relationship with drugs from the sepia-toned tyranny of such myths. In
Team Chemistry
, he reveals a game splashed with spilled whiskey and tobacco juice from the day the first pitch was thrown. Indeed, throughout the game's history, stars and scrubs alike partook of a pharmacopeia that helped them stay on the field and cope off of it:
In 1889, Pud Galvin tried a testosterone-derived "elixir" to help him pile up some of his 646 complete games.



Sandy Koufax needed Codeine and an anti-inflammatory used on horses to pitch through his late-career elbow woes.



Players returning from World War II mainstreamed the use of the amphetamines they had used as servicemen.



Vida Blue invited teammates to cocaine parties, Tim Raines used the drug to stay awake on the bench, and Will McEnaney snorted it between innings.
Corzine also ventures outside the lines to show how authorities handled--or failed to handle--drug and alcohol problems, and how those problems both shaped and scarred the game. The result is an eye-opening look at what baseball's relationship with substances legal and otherwise tells us about culture, society, and masculinity in America.
About the Author
Nathan Michael Corzine is an instructor in history at Coastal Carolina Community College.
Reviews
"Nathan Michael Corzine goes past the mythology and digs deep to reveal a game splashed with spilled whiskey and tobacco stains from its origins, where substances of various stripes were valued for the supposed ability to help athletes play better."--
Alternet
"A succinct, thoughtful, readable review of alcohol and drug abuse in baseball from 1870 to the present. Recommended." --
Choice
"Corzine's well-crafted chronology of the history of drug and alcohol use in Major League Baseball is a good read for fans and scholars alike.
Team Chemistry
offers new insights and analytic modes to address both of baseball's substance problems--its problem with both legal and illegal drugs and its problem of relying on the romanticized memory of the sport, rather than the reality of its clubs and players."--
Sport in American History
"Corzine presents a more nuanced meaning of professional baseball's post steroid era. . . . Books like this one can help guide both scholars and fans toward appreciation, understanding, and perhaps even reconciliation with the game's past."--
Journal of Sport History
---
Blurbs
"Stimulating. Clearly the most comprehensive 'baseball and drugs' book that I've read or am aware of. There are other books that cover specific scandals, such as BALCO, but none that dig as deeply into the history of the relationship between baseball and drugs."--Mitchell Nathanson, author of A People's History of Baseball

"Team Chemistry is a fascinating and compelling story of drugs in Major League baseball. Utilizing a vast array of sources and with great insight, Corzine traces the use of both legal and illicit drugs in a sport always thought of as our National Pastime. In the process, we gain a more nuanced and far deeper understanding of the mythology surrounding baseball and American culture."--David K. Wiggins, author of The Unlevel Playing Field: A Documentary History of the African American Experience in Sport
---