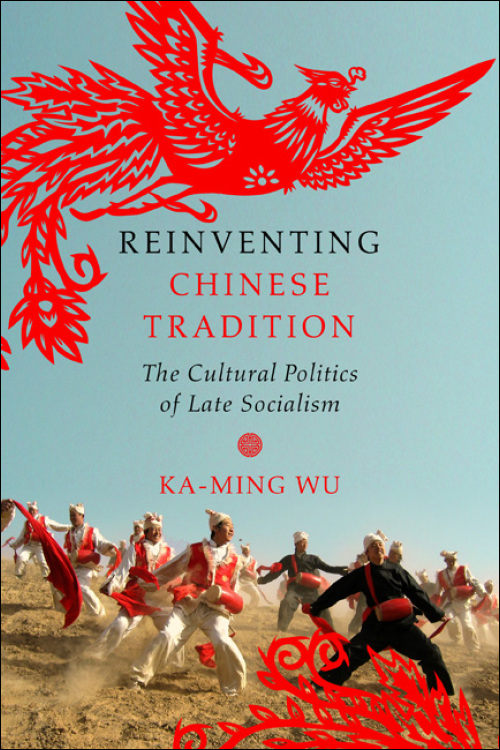 Reinventing Chinese Tradition
The Cultural Politics of Late Socialism
An eye-opening study of an evolving culture and society within contemporary China
Cloth – $110
978-0-252-03988-1
Paper – $25
978-0-252-08140-8
eBook – $19.95
978-0-252-09799-7
Publication Date
Cloth: 11/30/2015
About the Book
The final destination of the Long March and center of the Chinese Communist Party's red bases, Yan'an acquired mythical status during the Maoist era. Though the city's significance as an emblem of revolutionary heroism has faded, today's Chinese still glorify Yan'an as a sanctuary for ancient cultural traditions.
Ka-ming Wu's ethnographic account of contemporary Yan'an documents how people have reworked the revival of three rural practices--paper-cutting, folk storytelling, and spirit cults--within (and beyond) the socialist legacy. Moving beyond dominant views of Yan'an folk culture as a tool of revolution or object of market reform, Wu reveals how cultural traditions become battlegrounds where conflicts among the state, market forces, and intellectuals in search of an authentic China play out. At the same time, she shows these emerging new dynamics in the light of the ways rural residents make sense of rapid social change.
Alive with details, Reinventing Chinese Tradition is an in-depth, eye-opening study of an evolving culture and society within contemporary China.
About the Author
Ka-ming Wu is an assistant professor of culture and religious studies at the Chinese University of Hong Kong.
Reviews
"
Reinventing Chinese Tradition
is a fine example of how the anthropological analysis of tradition and suggests how anthropologists can articulate the relationship between modernity and tradition(s) in all societies."--
Anthropology Review Database
"This book uses solid ethnographic data and rich research findings in the field to provide convincing support for the newer trends in the theory of tradition. The profound analyses make a strong case for the argument that tradition is changeable."--
Journal of Folklore Research
"A lively, engaging ethnography."--
China Quarterly
"Wu's theoretical approach and frequent engagement with a broader ethnographic literature makes this a must-read for specialists. It is recommended for anyone looking for insights into the complexities of contemporary rural China's cultural scene."--
China Journal
"This book constitutes an excellent contribution to contemporary Chinese folklore studies and would make a wonderful addition to undergraduate courses on East Asian folklore and cross-cultural explorations of contemporary cultural politics."--
Journal of American Folklore
---
Blurbs
"A wonderful balance of ethnography and theoretical argument. Written in an engaging and accessible style and each chapter has much to offer in terms of theoretical insight and argument. It fairly sparkles intellectually."--Ann Anagnost, coeditor of Global Futures in East Asia: Youth, Nation, and the New Economy in Uncertain Times

"I have read nothing like it in the field of Chinese studies. Original, insightful, and thoughtful, this book will be a must-read for a wide audience."--Lisa Rofel, author of Desiring China: Experiments in Neoliberalism, Sexuality, and Public Culture

"Drawing on years of deep and prolonged immersion in the lives of village residents of the North China plain, Ka-ming Wu not only brilliantly elucidates scholarly dialogues about domestic and global debates, but through lively ethnography allows readers to appreciate the dynamic interchange between several generations of village performers, artists, and their audiences."--Deborah S. Davis, coeditor of Creating Wealth and Poverty in Postsocialist China
---