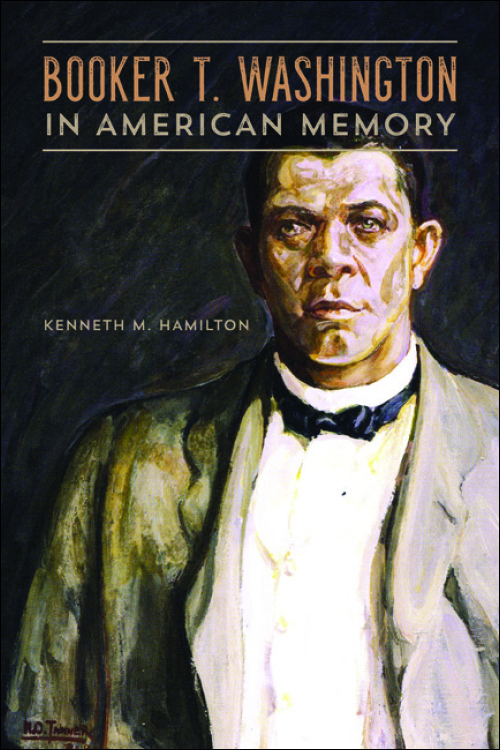 Booker T. Washington in American Memory
The death and commemoration of an iconic figure
Cloth – $95
978-0-252-04077-1
Paper – $24.95
978-0-252-08228-3
eBook – $14.95
978-0-252-09922-9
Publication Date
Paperback: 02/27/2017
Cloth: 02/27/2017
About the Book
Since the 1960s, many historians have condemned Booker T. Washington as a problematic, even negative, influence on African American progress. This attitude dramatically contrasts with the nationwide outpouring of grief and reverence that followed Washington's death in 1915.
Kenneth M. Hamilton describes how, when, where, and why Americans commemorated the life of Booker T. Washington. For months following his death, tens of thousands of Americans, especially blacks, honored his memory. Their memorials revealed that Washington enjoyed widespread national support for his vision of America and the programs that he imparted to achieve his aspirations. Their actions and articulations provide rich insight into how a cross section of Washington's contemporaries viewed him. From private messages of solace to public pronouncements, countless Americans portrayed him as a revered national icon. Among other characteristics, commemorates voiced their appreciation of his humanitarianism, humility, nationalism, perseverance, philanthropy, progressivism, spirituality, and wisdom. Washington was the leading advocate of the Yankee Protestantism Ethic, which promoted education, and personal qualities such as pragmatism, perseverance, cleanliness, thrift, and the dignity of labor among African Americans.
About the Author
Kenneth M. Hamilton is an associate professor of nineteenth-century and African American history and Director of Ethnic Studies at Southern Methodist University. He is the author of Black Towns and Profit: Promotion and Development in the Trans-Appalachian West, 1877-1917.
Reviews
"Recommended."--
Choice
"Those particularly intrigued by Washington and the historiography on him will be most interested in
Booker T. Washington in American Memory
."--
History
"Hamilton's work is well done and highly readable. . . . Hamilton is most effective in getting readers to appreciate Washington via the lived experiences of the people who witnessed his life and death."--
Journal of Southern History
"Hamilton's meticulous attention to the public and private memories of Washington offers a fascinating window into his complex life and times." --
Journal of American Ethnic History
---
Blurbs
"Nationwide memorials to Booker T. Washington added him to the impressive roster of civil saints in American society. Yankee Protestant values energized him with a religious fervor to lift African Americans to economic freedom and self-sufficiency. No wonder the memorials and tributes to the Tuskegeean assumed sacred significance to his mourners. Scholars in history, religion, and related disciplines will find Professor Hamilton's book an indispensable addition to their libraries and syllabi."--Dennis C. Dickerson, Vanderbilt University
---