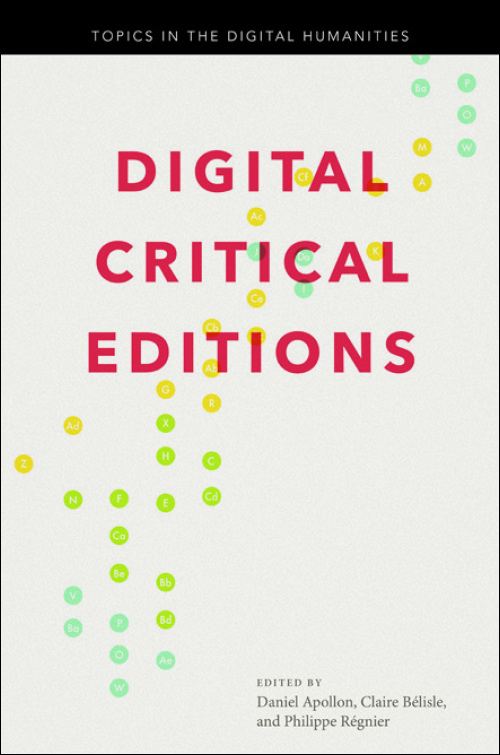 Digital Critical Editions
Exploring the interweaving of traditional and digital textual scholarship
Cloth – $125
978-0-252-03840-2
Paper – $30
978-0-252-08256-6
eBook – $19.95
978-0-252-09628-0
Publication Date
Paperback: 02/01/2017
Cloth: 07/07/2014
About the Book
Transitioning from print to a digital milieu deeply affects how scholars deal with editing critical texts. Changing technology and evolving reader expectations lead to the development of specific editorial products. Yet such changes challenge traditional forms of knowledge and methods of textual scholarship.
Digital Critical Editions draws on the experiences of philologists, text critics, text encoders, scientific editors, and media analysts to range from philology in ancient Alexandria to user-supported online critical editing, from peer-directed texts distributed to a few to community-edited products shaped by the many. The authors discuss the production and accessibility of documents, the emergence of tools used in scholarly work, new editing regimes, and how readers' expectations evolve as they navigate digital texts. What emerges is an essential guide for digital editors, researchers, readers, and technological actors to address the disruptions that arise from the clash of traditional and digital cultures.
About the Author
Daniel Apollon is an associate professor and head of the Digital Culture Research Group at the University of Bergen. Claire Bélisle is a researcher at the National Scientific Research Center in Lyon. Philippe Régnier is director of research at the National Scientific Research Center in Lyon.
Reviews
"Recommended."--
Choice
"An exciting and poignant contribution to the field of textual editing. . . .
Digital Critical Editions
represents the most comprehensive volume yet on this topic and one that every scholar and interested citizen should be proud to display on their bookshelf."--
Digital Scholarship in the Humanities
"
Digital Critical Editions
offers a wonderful introduction to an important aspect not only publishing but also of understanding the media involved in a process that so many take for granted-- reading."--
Communication Research Trends
---
Blurbs
"This is the first collection I have seen to address such a range of questions surrounding editing in the digital age, with a well-focused approach on key issues and offering a strong theoretical and historical background."--Peter Robinson, editor of Chaucer: The Wife of Bath's Prologue on CD-ROM

"This collection melds theory with contemporary practice. Moreover, its use of theory is wide-ranging and current, providing a much-needed counterpoint to more technically focused scholarship."--Susan Schreibman, editor of A Companion to Digital Literary Studies and A Companion to Digital Humanities
---