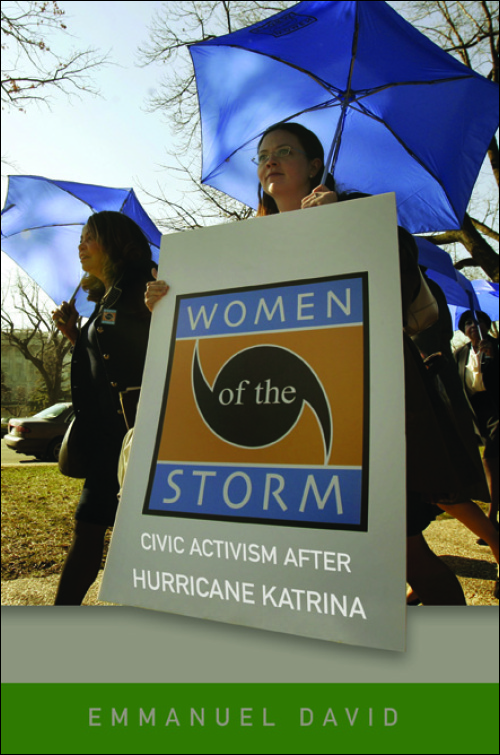 Women of the Storm
Civic Activism after Hurricane Katrina
New alliances, Southern culture, and the resurrection of New Orleans
Cloth – $110
978-0-252-04126-6
Paper – $26.95
978-0-252-08281-8
eBook – $14.95
978-0-252-09986-1
Publication Date
Paperback: 10/30/2017
Cloth: 10/30/2017
About the Book
Hurricanes Katrina and Rita made landfall less than four weeks apart in 2005. Months later, much of New Orleans and the Gulf Coast remained in tatters. As the region faded from national headlines, its residents faced a dire future.
Emmanuel David chronicles how one activist group confronted the crisis. Founded by a few elite white women in New Orleans, Women of the Storm quickly formed a broad coalition that sought to represent Louisiana's diverse population. From its early lobbying of Congress through its response to the 2010 BP oil spill, David shows how members' actions were shaped by gender, race, class, and geography. Drawing on in-depth interviews, ethnographic observation, and archival research, David tells a compelling story of collective action and personal transformation that expands our understanding of the aftermath of a historic American catastrophe.
About the Author
Emmanuel David is an assistant professor of women and gender studies at the University of Colorado Boulder. He is coeditor of The Women of Katrina: How Gender, Race, and Class Matter in an American Disaster.
Reviews
"This unique contribution to the literature should allow
Women of the Storm
to attract the attention of researchers, teachers, and community groups of all sorts. It models dedicated, reflexive fieldwork and provides analyses that are empirically grounded yet theoretically rich. David's excellent book should be included on the bookshelf of every scholar of disaster, gender, elites, and social movements."--
Antipode
"For readers in gender studies, disaster studies and the sociology of the environment, the book generates a substantial contribution to the study of social class and women's activism in recovery from the long-term effects of Katrina." --
Journal of Gender Studies
"A well-written and informative read. . . . Civic activists and scholars of gender and social movements alike will find this text to be a valuable addition to their reading lists." --
Gender & Society
"Useful for anyone interested in studying gender, groups, disasters, politics, or social movements." --
The Southern Register
"It is a book about storm recovery but, more important, about the personalities that helped move that effort forward. David offers the reader sound sociological explanations about the collective actions of WOS, but in the end, he gives readers a tale of perseverance and love of community." --
The Journal of Southern History
"Although social theory clearly guides David's research process and analysis, the book's writing style foregrounds narrative, character development and voices of WOS women. . . . An easy and enjoyable reading experience." --
Contemporary Sociology
---
Blurbs
"Women of the Storm pulls back the analytical curtain on one of the most unusual post-Katrina political movements. Drawing on firsthand observations and in-depth interviews, David reveals how privileged white New Orleans women used their philanthropic and volunteer skills to create a genuinely interracial alliance that could effectively pressure members of Congress to invest in the city's and the whole coastal region's revival. Here is a book for anyone doing intersectional digging into gendered social movements, congressional lobbying, or postdisaster politics."—Cynthia Enloe, author of Seriously! Investigating Crashes and Crises as if Women Mattered

"Women of the Storm is an important 'studying up' investigation of privileged women in post-Katrina New Orleans. It offers a rare, in-depth look at the volunteer political labor of elite women. Engaging and well written, David focuses on micro-level processes and presents careful descriptions of events and dialogue to illuminate issues of power, inequality, diversity, gender, social class, and politics. Women of the Storm is a truly valuable addition to the field of gender and disaster."—Alice Fothergill, coauthor of Children of Katrina

"This fascinating book describes a courageous group of elite women who took the risk to bridge race and class divides, stand together, and take collective political actions that were fundamental to the recovery of New Orleans. David captures their hopes and deliberations, intelligence and limitations, and joie de vivre with candor and compassion—a beautiful achievement."—Rebecca E. Snedeker, coauthor of Unfathomable City: A New Orleans Atlas

"The book's unique focus centers on the well-orchestrated activities of an elite group of women as they defined and acted upon their roles as community leaders to invite, entice, and cajole national leaders to see for themselves the block-by-block evidence of Hurricane Katrina's destruction. It makes a substantial contribution to the study of social class and women's activism while raising important questions about inclusion and exclusion, and how a community represents itself."—Beth Willinger, coeditor of Newcomb College, 1886-2006: Higher Education for Women in New Orleans
---